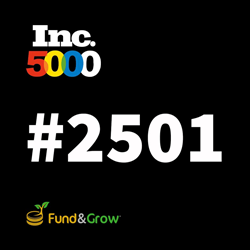 "I feel honored that our company Fund&Grow has now been featured 5 years on the Inc. 5000 list. Being featured alongside some of the most innovative companies in America is incredibly humbling." - Ari Page, CEO & Founder, Fund&Grow
SPRING HILL, Fla. (PRWEB) August 19, 2020
Fund&Grow, the leading Business Credit experts, announced today that they have been featured on the Inc. 5000 for 2020, the most prestigious ranking of the nation's fastest-growing private companies, now making the list for 5 years in a row.
"I feel honored that our company Fund&Grow has now been featured 5 years on the Inc. 5000 list. It's incredible to look back just 12 short years ago... Having just started our company, with a mission to help Business Owners get access to capital. And as of today, having helped thousands of Business Owners, acquiring over $1 billion dollars in business capital, credit and funding. It feels truly incredible." says Ari Page, CEO & Founder of Fund&Grow.
The list represents a unique look at the most successful companies within the American economy's most dynamic segment—its independent small businesses. Microsoft, Dell, Domino's Pizza, Pandora, Timberland, LinkedIn, Yelp, Zillow, and many other well-known names gained their first national exposure as honorees on the Inc. 5000.
"As we all know, access to capital is one of the #1 factors to whether a business makes it – or doesn't. I've seen countless businesses fail due to a lack of funding. It's why we're so passionate to help others. What sold me on working on the team at Fund&Grow was seeing how Ari Page (the CEO & Founder of the company) was helping struggling businesses quickly get access to the funding they needed. When I saw that, I knew this was a once in a lifetime opportunity – and that this company would become something special. That was around 10 years ago. And today, we're 100 times bigger and have come to help tens of thousands of businesses around the United States." says Mike Banks, the COO of Fund&Grow
Started just 12 short years ago, Fund&Grow has been able to consistently land on the Inc. 5000 due to their constant growth, innovation, and willingness to test new things.
"It's easy to start a business. What's harder is making something truly unique, something that actually helps people. And the best part about making something truly unique, is that you get exponential growth. Because when you promote the thing you're selling, other people recommend you, affiliates love to work with you, and growth happens rapidly. So to all new business owners out there, what I would recommend is really think through who you want to serve, how you want to serve them, and figure out how to do it better than everyone else. And make your offer or service as "done for you" as humanly possible." Ari Page adds.
Alongside of Fund&Grow helping businesses get capital, they show how to also implement it into their businesses.
Whether it's how to use that capital to make a wire transfer to a title company, to become a cash buyer for Real Estate deals... Or simply to cashflow marketing and advertising spend.
They have a team of 45 business credit experts to help service all their clients, and are constantly adding more people to the team to handle all their growth.
If you want to follow along with Fund&Grow's rapid growth, or see how you can get access to $50,000 to $250,000 in Business Credit, often at interest rates of 0%, then you should check out a free training they recorded showing exactly that, which you can see by clicking here.
About Fund&Grow
Fund&Grow has been helping Entrepreneurs, Business Owners, and Real Estate Investors obtain over $1 Billion Dollars in Business Credit & Funding over the last 12 years.
We secured over $137 Million in Funding (with Interest Rates as low as 0%) in just 2019 for our clients without them having to show tax returns, put up any collateral or giving up any equity.
With over 100,000 fans, followers, and friends in our Online Community, a BBB AAA+ Rating, over 2200+ 4.9 Star Reviews, and Inc 5000 recognition 5 years in a row, you can be sure we will do everything in our power to get you up to $50k to $250k in Business Funding as quickly as possible (often as little as 2-3 weeks).
We offer convenient Payment Plans to pay over 60 or 90 days as well as a 60 Days Money Back Guarantee. Fund&Grow is a team of 45+ based in Spring Hill, FL. Visit http://www.FundAndGrow.com to get started today.