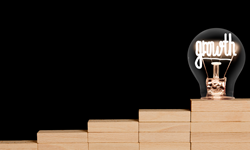 Ensurem grew from a 2017 revenue of $8,000 to $4.75 million in 2018 and a 2019 revenue of $19.68 million.
CLEARWATER, Fla. (PRWEB) November 24, 2020
Florida-based insurance technology and product distribution company, Ensurem was recently recognized by the Tampa Bay Business Journal as the fastest growing company in the area. Ensurem posted a growth of almost one quarter of a million percent in the 3-year period between 2017 and 2019.(1) "We are humbled at this recognition," said Ensurem Founder and CEO Dave Rich. "We owe this honor to all the hard workers at Ensurem who diligently strive to break down constraints, optimize throughput and work together to create a high performing organization offering exceptional service to our customers."
According to the Tampa Bay Business Journal, Ensurem sits at the top post as it grew from a 2017 revenue of $8,000 to $4.75 million in 2018 and a 2019 revenue of $19.68 million—a growth of 245,900.00 percent.
Additionally, in its 2020 list of the top 500 companies in Florida, the Business Observer magazine ranked Ensurem No. 271 overall and 5th in terms of revenue growth from the previous year. The magazine mentioned Ensurem as one of the fastest growing companies in the Sunshine State.
Ensurem, which was founded in 2016 in Clearwater, Fl., and currently employs 200+ people, specializes in simplifying the insurance market, especially for seniors who are 65+ with Medicare. They have developed proprietary technology that simplifies the insurance-buying process through online educational resources, quoting and comparison tools and, in some cases, online policy enrollment tools.
Their forte is aiding seniors in navigating and choosing the right Medicare plans and supplements, ensuring their clients get exactly what they need and are not encumbered by unneeded coverage that would increase their expenses. Ensurem is a licensed and certified representative of Medicare Advantage HMO, PPO and PPFS organizations and offers stand-alone prescription drug plans. Additionally, they sell Medigap, dental, vision, hospital indemnity and final expenses insurance. The company, which operates in all 50 states, represents over a dozen of the best-rated insurance carriers in the nation, such as Aetna, Catholic Life Insurance, Cigna, Humana, Mutual of Omaha, Thrivent, United Healthcare and more.
Rich attributes his company's rapid growth to two factors. While the first is a large and complex senior insurance marketplace filled with abundant opportunity, he admits the second is even more important—a mission-driven company culture.
"We help seniors navigate complicated decisions, and in turn, safeguard their hard-earned assets, save money, build wealth, and live Life Optimized(®). Our growth is a reflection that we love what we do, and we take our responsibility to our customers seriously," added Rich.
About Ensurem:
Ensurem, headquartered in Clearwater, FL, is a leading technology and product distribution company serving carriers and consumers within the massive U.S. senior market. The company provides end-to-end solutions for carriers, including product development, digital marketing, and consumer-centric front ends and back end. For more information, please visit Ensurem.com
1. Tampa Bay Business Journal; "Fast 50: Tampa Bay's 50 Fastest-growing Companies; 10 November 2020; bizjournals.com/tampabay/subscriber-only/2020/11/10/fast-50-tampa-bays-50-fastest-growing.html?b=1605042417%5E21813278