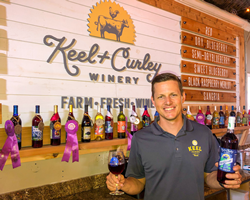 We expect to see sales continue to increase as our brand gains notoriety with new customers in new markets across Florida
PLANT CITY, Fla. (PRWEB) November 10, 2020
Keel Farms announces distribution of its popular Keel & Curley wines to every Publix Supermarket in the state of Florida. This positive development comes during a particularly challenging time for fruit farmers in the state. The pandemic hit while blueberries were being harvested.
Grocery stores and wholesalers decreased their fruit orders and stocked up on meat, dairy, eggs and paper goods. Consumer demand for fresh fruit fell and prices fell 50% for wholesale blueberry growers.
The impact of the pandemic resulted in excess blueberries going into the freezer and juice markets. At the same time, consumers were purchasing record amounts of Florida made wine. Sales of Keel & Curley wines have increased 85% compared to last year. With more people drinking wine, Keel & Curley helped both farmers and distributors offset their loses by buying excess blueberries to meet demand.
"Being able to turn a negative into a positive has been a silver lining for us," said Clay Keel, President of Keel Farms Group. "We plan to build on this momentum, and we expect to see sales continue to increase as our brand gains notoriety with new customers in new markets across Florida."
Keel & Curley Winery produces four types of blueberry wines, each with a distinct taste: Gulf Coast, Dry, Semi-Dry and Sweet. All are made from 100% blueberries.
Keel & Curley's Fusion wines are a blend of grape wine and fruit juice; for example, Merlot or Chardonnay blended with real strawberry or peach elements. Keel & Curley Winery produces seven different fusion wines.
For more information and to find Keel & Curley wines in a store near you visit https://keelfarms.com/winery/ or stop in at the winery for a tasting, live music, a bite-to-eat or a tour at 5210 Thonotosassa Rd. Plant City, Florida (just east of Tampa off Interstate-4).
About Keel Farms.
The Keel & Curley Winery and Restaurant was started in spring of 2003 in the kitchen of founder and owner, Joe Keel. Keel, a central Florida blueberry farmer, wanted to find something to do with his end of crop blueberries. He decided blueberry wine would be interesting and dabbled with his creation in the family farmhouse kitchen. He started that spring of 2003 with 10 gallons of blueberry wine. Each batch was improved until it turned into the unique and charming flavors that Keel & Curley Winery is known for today.