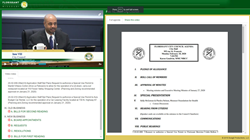 "Swagit has allowed us to modernize the recording, broadcasting, archiving and availability of our City Council meetings," said Steve Weiersmueller, Director of Information Technology for the City of Florissant. "...Swagit has helped us do more with less."
DALLAS (PRWEB) March 04, 2020
First in the State
The City of Florissant, Missouri is the first jurisdiction in Missouri to go "hands-free" for their staff with Swagit, providing their citizens a convenient, ad-free 24/7 tool that enhances access to City Council meetings.
In late 2019, Swagit installed a three-camera Avior™ broadcast system in the City's council chambers. Now Swagit's Texas team of expert video professionals control the video directing and production of Florissant City Council meetings. During each live broadcast, the Swagit team also adds lower-third graphics that identify agenda items; post-broadcast, they handle Swagit's EASE™ agenda-indexing of meeting videos.
After the live meeting broadcast, meeting videos are available for on-demand viewing on the City website with Swagit's customized on-demand video player interface.
Key features of this interface include:

Each meeting video can be viewed full-screen or alongside its agenda.
Swagit's searchable, jump-to indexing service enables residents to find the specific content they need, easily clicking on specific agenda headings to step through a video.
A "Share" tab provides a link to any specific point in a meeting video, set up to be shared instantly via email, Facebook, Twitter, or LinkedIn. From that same tab, users can also download an MP4 of a specific agenda item or the entire meeting.
With these services, meeting video production is now completely "hands-free" for Florissant city staff. The City is now able to use meeting staff and media department resources more efficiently while maintaining their commitment to government transparency.
"Swagit has allowed us to modernize the recording, broadcasting, archiving and availability of our City Council meetings," said Steve Weiersmueller, Director of Information Technology for the City of Florissant. "Video is now easily available live on Facebook, our cable stations, and archived on our website. Swagit has helped us do more with less."
"The City of Florissant needed to maintain their commitment to City Council meeting transparency, but wanted to use their staff and resources more effectively," said Natascha Ross, Account Manager at Swagit. "They quickly recognized the combination of cost savings, reliability, and service provided by Swagit's "hands-free" products and services."
Located just outside of St. Louis, Florissant is the 12th largest city in Missouri. City Council meetings are held the 2nd and 4th Monday of every month, and can be viewed live and on demand on the web at the Florissant city website and Facebook page, as well as on local cable television at Charter Channel 992 or AT&T Uverse Channel 99.
About Swagit Productions, LLC
Swagit Productions, LLC, based in Dallas, TX, provides hands-free video streaming®, broadcast, and captioning solutions to local, state and federal government agencies. Swagit pioneered the Avior™ Broadcast System – a complete package of HD PTZ (Pan, Tilt and Zoom) cameras and professional video-switching equipment that enables any client to fully outsource the production, operation and distribution of multi-camera broadcasts for public meetings. Swagit's progressive online, mobile and social platform solutions include the sole-source EASE™ hands-free webcasting® system for public meeting indexing, plus agenda integration, archiving, on-demand playback, closed captioning and the innovative Sound Search™. Swagit's focus is on emerging technology and relevant avenues of distribution – for example, Swagit's ISD/Community/PEG (Public, Education and Government Access) portal and app featuring social media integration and on-trend resident engagement.