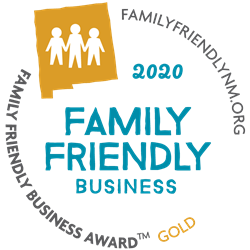 "Flow Science is proud to have earned Family Friendly Gold Status for the 4th year in a row. We firmly believe that offering best-in-class family friendly benefits in addition to a competitive compensation is the right thing to do," said Aimee Abby, Flow Science's HR Manager.
SANTA FE, N.M. (PRWEB) March 31, 2020
The Family Friendly New Mexico initiative offers training, support and resources to businesses on how to implement more family friendly policies; provides recognition to companies that offer their employees family friendly benefits; and, acts as a resource and clearinghouse of information for businesses and community leaders as they develop policies on issues such as paid family leave and childcare assistance.
"As we grow the state's economy, we have the opportunity to be a national leader in offering New Mexicans workplaces that help companies attract and keep the best workers," said Giovanna Rossi, founder and Director of Family Friendly New Mexico. "Implementing family-friendly policies can be a simple, concrete investment a company can make to ensure it can compete for highly qualified employees. Studies have shown that costs associated with creating family friendly benefits are more than made up for in improved productivity, employee morale and employee retention. We are happy to recognize Flow Science as a leader in implementing family friendly policies."
Flow Science is committed to continuing to offer a competitive, best-in-class total compensation package for its full-time employees. Along with excellent benefits such as employer-paid health insurance, a generous employer match on employees' 401(k) contributions and substantial paid time off policies that make us an employer of choice, Flow Science offers parental leave for the birth or adoption of a child, a wellness allowance for stress reducing and health enhancing activities, and flexible work arrangements.
About Flow Science, Inc.
Flow Science, Inc. is a privately-held software company specializing in free-surface CFD flow modeling software for industrial and scientific applications worldwide. Flow Science has distributors and technical support services for FLOW-3D and FLOW-3D CAST in nations throughout the Americas, Europe, Asia, and Australia. Flow Science can be found online at https://www.flow3d.com. FLOW-3D is a registered trademark in the USA and other countries.