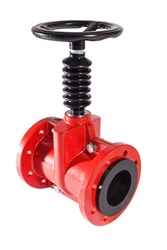 Linthicum, MD (PRWEB) November 19, 2013
Flowrox, a global leader in heavy-duty industrial valve manufacturing and service, is launching a new pinch valve product designed to enhance current pipeline equipment and processes using the latest technology in fluid control.
The new PVG valve from Flowrox was developed for use in the Oil & Gas, Mining, Minerals and Metallurgy and Waste Water industries—particularly where abrasive or corrosive slurries, powders or coarse substances are processed.
Based on three decades of experience and strong understanding of industrial fluid control, Flowrox has engineered its PVG valve at full bore with no flow restrictions, allowing processes with abrasive or corrosive fluids—such as lime slurry or mineral slurries.
The main benefit to a full bore design is that the PVG valve itself becomes an integral part of the pipe and is able to process the same fluids in the harshest of conditions.
In addition to its strength and resistance to aggressive slurries, Flowrox's new PVG valve is designed as a full port fluid control device that allows a more efficient process, requiring less pumping energy.
The reduction of head pressure is another benefit offered by the PVG valve, which helps reduce pump costs and eliminates unnecessary turbulence in pipelines handling abrasive slurries.
Flowrox is actively marketing the PVG valve to all major municipalities and power plants in North America managing fluid control processes that require precision and performance directly related to revenue generation.
Overall, the core benefit of incorporating Flowrox's PVG valves is a reduction of the lowest total cost of ownership—a measurement that is often a deciding factor in the selection of these industrial products.
"Our PVG valve offers great in-field flexibility as it can be easily replaced on-site without major delays in operation," said Anthony Clark, Vice President of Sales at Flowrox. "Add to that its guaranteed long operational lifetime and we have a product our clients can depend on when they need it most."
At the core of Flowrox's PVG valve is its innovative elastic sleeve, which is the only part in contact with the medium as a way to reduce any potential corrosion or deterioration due to wear-and-tear, even when processing the most corrosive chemicals.
Older valves with years of operation are often based on fluid control technologies that do not incorporate the latest design efficiencies, leading to jamming or clogging—and thus resulting in costly repairs or decommissioning of a pipeline due to valve damage.
In its PVG valves, Flowrox offers the benefit of low maintenance and trouble-free operation without the challenge of jams or clogs, giving peace of mind thanks to its long service intervals and reduced cost of ownership.
ABOUT FLOWROX
Flowrox, Inc. is a leading manufacturer of industrial valves and pumps with over 30 years of experience and hundreds of thousands products installed in facilities across the globe. The company serves the Oil & Gas industry, as well as Mining, Minerals & Metallurgy and Energy & Environment industries. Flowrox also works closely with OEMs to deliver outstanding solutions to support their operation. Additional industries served include Chemical, Pulp & Paper, Cement, and Waste Water Treatment.
For more information about Flowrox, its products and applications, please visit http://www.flowrox.us.
For More Information:
Molly Bragg
Marketing Associate
Email: molly.bragg(at)flowrox(dot)com
Phone: (410) 636-2250
###