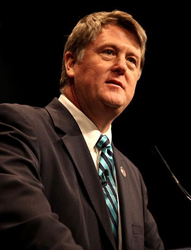 Gold and silver are the historic forms of money and what we really have in the U.S. today is really debt instruments which aren't money at all.
Burbank, CA (PRWEB) October 22, 2014
For those Americans who buy into reports of low inflation, or possibly even deflation, Floyd Brown has a reality check. In fact, the author and political commentator believes that the saving class is currently facing a systematic effort by the United States government and the political class to rob them of their wealth, all through an ongoing devaluation of the dollar.
"People that want to save for the future, that want to prepare for the unexpected events, that want to take care of their family, those people are systemically punished by the United States government and by the political class," Brown said in an exclusive interview with Birch Gold Group, one of the nation's top precious metals companies. "And the money's basically robbed from them and they do it slowly over time through inflation and sometimes not slowly when we have big bursts of inflation like maybe just around the corner ahead of us."
Mr. Brown, president of Western Center for Journalism, offered an example from his family. "My father made a couple bucks an hour working as a welder in the 1960s, but if you actually take the time value of money and you look at it in today's dollars, he was making almost $80,000 a year... basically what a welder can make today. The value of those dollars has been stolen from him and it's immoral."
To understand the future of the dollar, Brown explained in the interview, Americans must look into its past. "If it's lost 90% of its value in the last hundred years," he said, "it will probably lose 90% or more in the next hundred years... I don't see the dollar going away, I just see it eroding in value."
He also called the U.S. dollar a debt instrument, rather than money. The real money, he said, are gold and silver, which have been used as such historically. "I understand why freedom lovers... are often people that like real money... they're skeptical of the powers that be."
Known as a supporter of limited government and freedom of enterprise, Brown believes that the United States government acts irresponsibly not only toward its citizens, but also its partners.
"We've acted irresponsibly, we've acted as bullies. We've acted inappropriately with a lot of partners around the world. And I understand why some of our allies are frankly dubious about a close partnership with the United States because we're not a good partner," said Brown.
Find the full audio transcript of this exclusive interview on Birch Gold Group's website: http://www.birchgold.com/floyd-brown-interview-gold-historic-form-of-money
About Birch Gold Group
As the dollar continues to erode in value, Birch Gold Group has made it its mission to help Americans protect their family's future with physical gold and silver. Clients can even move existing IRA's or 401(k)'s into a Precious Metals IRA – without any tax implications or penalties. One of the nation's premier precious metals dealers, Birch Gold has earned an A+ Rating from the BBB and 5-Star reviews on websites such as Certified Consumer Reviews and Trustlink.org. To learn how to move your own savings to precious metals, call a Birch Gold Specialist today at (800) 355-2116, or visit their website at http://www.birchgold.com.
About Floyd Brown
Floyd Brown is an author, speaker, and political commentator, and has written for WesternJournalism.com, the San Francisco Chronicle, Washington Times and WND.com. "Brown has a stature among devoted conservatives that almost matches his physical heft," said Time Magazine. His latest book, Killing Wealth/Freeing Wealth, was published in 2010. Floyd and his wife Mary Beth Brown have a weekly column dedicated to politics, culture and the economy.