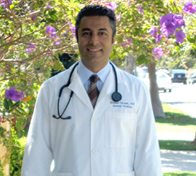 COVID-19 and flu shots must be taken seriously for the health and safety of every individual and their community.
LOS ANGELES (PRWEB) November 16, 2020
A November 12 article on USA Today reports on health experts stressing the importance of flu shots this winter in particular. The article notes that health officials are worried about a "twindemic" as flu season begins amidst the surging coronavirus pandemic and they are urging the public to get their inoculations as soon as possible. The report says that, for individuals who come down with the flu this year, their chances of catching and exhibiting severe COVID-19 symptoms increase if they are saddled with a weakened immune system. Los Angeles-based board-certified internist Dr. Michael Farzam House Call Doctor Los Angeles echoes the sentiment, saying that COVID-19 and flu shots must be taken seriously for the health and safety of every individual and their community.
Dr. Farzam says that taking the proper precautions and advice of medical professionals is the first step in ensuring an individual's health. The Southern California physician debunks the myth that getting the flu shot will give people the flu, saying that this simply doesn't happen, though patients may experience some very mild and brief symptoms, such as soreness in the arm, in the hours immediately following the shot. It's a very small price to pay for avoiding or weakening a debilitating illness that can often take weeks to recover from, says Dr. Farzam. Especially for people at higher risk for COVID-19 complications as well as those who may be more susceptible to flu complications such as people over 65, Dr. Farzam says that getting the flu shot this year can easily be the difference between life and death, not only for the recipient but for people in the community.
The Los Angeles-based doctor notes that, while getting the flu shot or even COVID-19 testing might seem difficult or slightly risky due to social distancing and health concerns, there are at-home options available for everyone's safety and peace of mind. Dr. Farzam says that in the current climate, house call doctors are needed now more than ever as they can minimize the number of trips outside individuals requiring medical care need to take improving health care for their patients and reducing the strain on the overall health system.
The House Call Doctor Los Angeles physician says that he can provide his patients with flu shots, rapid coronavirus testing, and, for those already suffering early flu symptoms, Tamiflu, all in the comfort and safety of their homes. With the concurrent viruses, Dr. Farzam adds that it may be easy to mistake one illness for the other and vice versa, which is why getting tested and seeing a doctor sooner rather than later makes sense for people with symptoms, especially those in more vulnerable groups.
Readers interested in learning more about at-home coronavirus testing, flu shots, or all of the other services provided by Dr. Michael Farzam can call House Call Doctor Los Angeles at (310) 849-7991 or visit https://www.housecalldoctorla.com/.