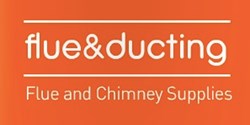 The new site is all about our continuous commitment to our customers and our preference for clear communication and helpful advice.
Stockport, Cheshire (PRWEB) August 19, 2013
Flue & Ducting Ltd, the national chimney and multi-fuel stove supplier, have launched a new website showcasing their new online catalogue and full product range. The site, which was unveiled to coincide with the launch of their latest product 'Dura-Flue' at the 2013 National Hearth and Home Exhibition, is live now and can be reached by visiting http://www.dura-flue.co.uk.
The website presents Flue & Ducting Ltd's specialized range of premium stainless steel flexible chimney liners - 'DURA-FLUE', their semi-rigid aluminium ducting as well as the full range of wholesale chimney and fireplace related products. This is all presented via their new online catalogue and contains stock including DINAK modular chimneys, SAVE vitreous enamel stove pipe, Euro-cowls, Colt cowls, MAD cowls, Solid fuel and gas components, Register Plates, Flue Cubes and much more.
Flue & Ducting Ltd are confident that the new site will allow users to access their product range quickly and easily with the latest catalogue available to view online and also download. The full catalogue range is available from their factory and trade counter in Stockport just off the M60 motorway and they also offer same day delivery to local customers and next day delivery UK wide as standard. The new website will also help customers identify stockists and trade locations across the UK that carry products from the catalogue available for delivery or collection.
The new site is a result of speaking with fitters and customers who want a clean and easy to navigate site that allows quick viewing of what products are available. Speaking about the new site, Managing Director Ryan Hancock said:
"We speak with our fitters and customers everyday and know how important it is for customers have the information they need in a simple and easy to view format. Often customers will call and to check whether a chimney cowl or adapter fits a particular way round on a stove or whether something is suitable for a certain installation and having the stock code and image to hand helps identify the product in question and the best solution for the job."
Hancock continued: "The new site is all about our continuous commitment to our customers and our preference for clear communication and helpful advice. We offer easy and simple ways to do business with a friendly attitude and we also understand the needs of those we serve because we're a family run business with plenty of experience under our belt."
The 2013/14 catalogue is also available in full colour print format and is currently being distributed to outlets across the U.K. It can also be requested online or by calling Flue & Ducting Ltd at their head office in Stockport on 0161 480 2994.
About Flue & Ducting Ltd
Flue & Ducting are manufacturers and national suppliers of premium chimney flues, chimney supplies and quality air ducting systems. With the main manufacturing, distribution base and a fully stocked trade counter and showroom located a few minutes from the M60 in Reddish, Stockport they are centrally positioned to meet the needs of customers and offer nationwide next day delivery and local same day delivery upon request.
Visit the new website for more info: http://www.flue-ducting.co.uk.
Digital Magazine: http://issuu.com/visuallogic/docs/flue-ducting-brochure/1?e=6343100/2491256.