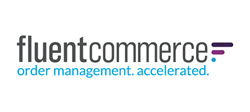 NEW YORK (PRWEB) December 08, 2022
Fluent Commerce, a leading provider of a cloud-native distributed Order Management System (OMS), today announced it has been recognized for the first time by Forrester, a leading global research and advisory firm, as one of the OMS sector's large notable vendors in its Order Management Systems Landscape, Q4 2022.
According to the report authored by Emily Pfeiffer, Principal Analyst, "Order management solutions are a crucial bridge that connects the back office to selling and fulfillment channels for digital businesses." In its overview of 24 OMS vendors, Forrester identifies Fluent Commerce extended use cases as pick and pack orders for fulfillment, syndicate data to marketplace/drop-ship channels and support international selling.
Fluent Order Management architecture provides retailers with the tools to connect their technology systems, sync inventory in near real-time, and optimize fulfilment logic. Born in the cloud and architected from day one to take advantage of modern-day cloud services, Fluent Order Management has the feature richness of a traditional OMS but with the flexibility of a true software as a service (SaaS) offering.
According to the overview, "…the pandemic cemented dedicated, cloud-based OMSes as crucial to the connected, real-time experiences that became mandatory for consumers.". The overview also stated that: "More than ever before, digital businesses must lean on order management systems to optimize inventory and orders to mitigate costs. This need is acute as they struggle with supply chain and staffing challenges and ever-rising customer expectations."
"We're thrilled for our debut in the Forrester Order Management Systems Landscape, Q4 2022. For us this is a significant acknowledgment of the position of Fluent Commerce in the OMS sector and use case functionality of our platform," commented Jamie Cairns, Chief Strategy Officer at Fluent Commerce. "It will offer a useful guide to potential customers looking to evaluate the range of potential OMS technologies, and we're confident that our solution compares very favorably to others cited in the overview."
About Fluent Commerce
Fluent Commerce is a global software company focused on distributed order management for commerce. Both B2C and B2B organizations rely on their cloud native, highly flexible and fully scalable distributed order management platform to transform fulfillment complexity into a competitive advantage. Fluent Order Management provides accurate and near real-time inventory availability across multiple locations, order orchestration, fulfillment optimization fulfillment location management, in-store pick and pack, customer service, and reporting. This enables retailers, brands, and B2B organizations to fulfill orders profitably while delivering the best customer experience possible. Fluent Commerce works with organizations such as JD Sports, L'Oréal, Prada Group, ALDO, Santoni, LVMH and Dulux. For more information visit https://fluentcommerce.com.