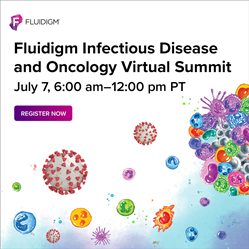 YORBA LINDA, Calif. (PRWEB) July 07, 2020
Fluidigm, an industry-leading biotechnology tools provider with a vision to improve life through comprehensive health insight, is bringing together hundreds of industry leaders, collaborators, research scientists and medical and academic professionals from around the world. Fluidigm, whose technologies are integral to supporting current progress in cancer, immunology and infectious disease research, has also developed new tools for SARS-CoV-2 detection and diagnostics.
The Fluidigm® Infectious Disease and Oncology Virtual Summit is a half-day event highlighting 10 renowned speakers presenting their latest findings in infectious disease, oncology and immuno-oncology research. Join the event to hear from the lineup of exceptional speakers and take part in the unveiling of a new Fluidigm product focused on improving flow and mass cytometry workflows.
This virtual event will include exciting new instrument and reagent products in booths and introduction sessions in meeting rooms, providing the ability to ask valuable questions and encounter thought-provoking discussions in an interactive environment. In addition to new cytometry solutions, attendees can learn about the novel AccuLift™ Laser Capture Microdissection System and discover Fluidigm's high-throughput microfluidics-based solutions for viral detection.
Produced on LabRoots' robust platform, this interactive environment with an exhibit hall, auditorium, meeting room and networking lounge allows attendees to connect seamlessly across all desktop and mobile devices.
For more information or to register for the event, click here.
About Fluidigm
At Fluidigm, we empower our customers to reveal meaningful insights in health and disease, identify actionable markers to inform life decisions and accelerate the development of more effective therapies. Fluidigm develops, manufactures, and markets research products for life science analytical and preparatory systems for use in mass cytometry, high-throughput genomics and single-cell genomics applications. We sell to leading academic institutions, clinical research laboratories, and pharmaceutical, biotechnology and agricultural biotechnology companies worldwide.
About LabRoots
LabRoots is the leading scientific social networking website, and primary source for scientific trending news and premier educational virtual events and webinars and more. Contributing to the advancement of science through content sharing capabilities, LabRoots is a powerful advocate in amplifying global networks and communities. Founded in 2008, LabRoots emphasizes digital innovation in scientific collaboration and learning. Offering more than articles and webcasts that go beyond the mundane and explore the latest discoveries in the world of science, LabRoots users can stay atop their field by gaining continuing education credits from a wide range of topics through their participation in the webinars and virtual events.