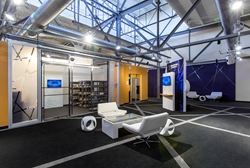 With this new partnership, stakeholders will have more options to address their specific situations, leveraging Fluke's progressive technology and SDI's extensive MRO expertise.
BRISTOL, Pa. (PRWEB) June 20, 2019
Furthering the Company's commitment to the advancement of the Maintenance, Repair, and Operations (MRO) Supply Chain ecosystem, SDI, Inc, a trailblazer in MRO digital supply chain solutions and technology is pleased to announce its new strategic partnership with Fluke Digital Systems, the leader in connected reliability software.
With its Accelix portfolio of Connected Reliability products, Fluke enables asset, reliability, and maintenance managers to achieve their overall equipment effectiveness goals. Fluke's condition monitoring equipment and professional test tools allow manufacturers to make the turn from reactive to predictive maintenance.
Manufacturers and other asset-intensive organizations desire a more integrated solution uniting asset management and supply chain management to enable production reliability and overall equipment effectiveness. Fluke and SDI are making the investment together to show customers how the Industrial Internet of Things (IIoT) can enable better supply chain management and how better MRO processes can support reliable plant production and asset management. As part of the new partnership, SDI has installed Fluke equipment and software into their MRO Innovations Solution Center in Bristol, Pennsylvania. Fluke will also be installing SDI technology and workflows into their Fluke Experience Center in Bonita Springs, Florida.
With this new partnership, stakeholders will have more options to address their specific situations, leveraging Fluke's progressive technology and SDI's extensive MRO expertise.
"Fluke delivers operational and productivity improvement through the application of technology," said Christopher Moore, President and CEO of SDI. "The team at Fluke Digital Systems has developed new solutions that harnesses IIoT and Industry 4.0 to connect industrial equipment health with computerized maintenance management systems to improve reliability and uptime, which aligns with our core strategy."
"SDI has nearly 50 years of deep domain expertise in MRO, which provides invaluable asset and production reliability for our customers," said Dave O'Reilly, President of Fluke Digital Systems, Fluke Corporation. "Couple that with their cloud-based B2B technology platform, ZEUS, and the possibilities for value creation for our customer base is endless."
ZEUS provides industrial manufacturers, universities, and other asset/facility intensive organizations Supreme Power over their Digital Supply Chain. The cornerstone of the platform, which includes modules for Data and Analytics, eProcurement, Storeroom Technology, and Inventory management, is a dynamic marketplace enabled by AI-automated item categorization, intelligent part recognition and identification, and buying automation through the use of bot technology.
The Companies plan to integrate the Accelix connected reliability framework with ZEUS to create a truly holistic solution that spans world-class MRO supply chain management and best-in-class asset management.
About Fluke
Founded in 1948, Fluke Corporation is the world leader in compact, professional electronic test tools and software for measuring and condition monitoring. Fluke customers are technicians, engineers, electricians, maintenance managers, and metrologists who install, troubleshoot, and maintain industrial, electrical, and electronic equipment and calibration processes.
For information on Fluke tools and applications, or to find the location of a distributor, contact Fluke Corporation, P.O. Box 9090, Everett, WA USA 98206, call (800) 44-FLUKE (800-443-5853), fax (425) 446-5116, email fluke-info(at)fluke.com, or visit the Fluke website at http://www.fluke.com.
About SDI
SDI is a Digital Supply Chain Solutions firm with a focused practice in Indirect Materials, MRO, and Industrial/Facilities Technology. We go to market through an innovative As-a-Service offering, delivering custom solutions and results designed to improve our client's MRO supply chain performance.
Using a custom suite of products, services and tools, SDI's platform coordinates, aligns and optimizes every step of the digital supply chain. Lower costs, smarter inventories and more reliable production are all natural results from a more connected MRO supply chain. To learn more visit: http://www.sdi.com or contact info(at)sdi.com
Questions?
Contact:
Jim Owens, SVP Business Development @ SDI
Jim.Owens(at)sdi.com
Hannelore Fineman, VP Sales & Special Projects @ Fluke
hannelore.fineman(at)fluke.com