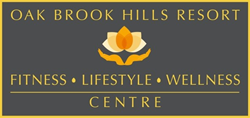 We're thrilled to give the Oak Brook and Westmont area a new outlet for recreation.
Oak Brook, IL (PRWEB) May 03, 2017
Hilton Oak Brook Hills Resort today announced the official opening of its Fitness, Lifestyle & Wellness Centre (http://www.oakbrookhillsresort.com). Already home to the Championship Willow Crest Golf Club, the multi-faceted resort now offers local residents and the business community alike a new one-stop-option to improve their mental and physical quality of life. The unique membership program includes access to: the fitness center, bootcamp classes, yoga, spin, spa, golf/golf simulators, indoor/outdoor pools and much more.
"We're thrilled to give the Oak Brook and Westmont area a new outlet for recreation," said Director of Club Operations Brad Ott. "Our multi-tiered concept is geared to both physical health and well-being, set in a relaxed, country club atmosphere."
Annual memberships at the Fitness, Lifestyle & Wellness Centre at Hilton Oak Brook Hills Resort begin at under $100 per month, and cover the following:
Fitness

24-hour fitness room: complimentary use of state-of-the-art equipment, featuring brands like Precor, Free Motion and TAG. Includes locker room access and dry sauna facilities.
Bootcamps for adults and kids: member pricing on body-shaping, heart rate-raising, fat-burning cardio workouts. Led by personal trainer Kimmy Carlson, the former Director of Exercise Programs at Chicago's renowned East Bank Club, bootcamps are intended to accommodate all experience levels, from the elite gym rat to the young novice looking to have some fun while getting a workout. Adult one-hour sessions offered Mondays and Wednesdays at 5 pm, while two-hour children (ages 6 and over) sessions offered Saturdays.
Spin classes: member pricing on Kimmy Carlson led 45 minute power sessions on Tuesdays and Thursdays at 12:30 pm.
Personal training: member pricing and customized programming available for all experience levels.
Lifestyle

Golf (outside and inside): 10%-off at Willow Crest Golf Club, and $25-off the hourly rate at one of the Centre's golf simulators. Members can enjoy the Championship 18-hole Dick Nugent-designed Willow Crest, home to several amateur and pro golfing tournaments, or the Centre's indoor simulator program, providing a true to life virtual experience on over 80 international courses.
Pools – complimentary use of the Centre's indoor pool includes a dedicated area for lap swimmers, table tennis and more while the heated outside pool includes plush lounge furniture, hot tub, and food and beverage service.
Sport Courts – complimentary use of the Centre's tennis, basketball and volleyball courts.
Restaurants – 10%-off all food and beverage at the Resort's two full-service options: the signature farm to table, B., and Tin Cup Bar & Grille.
Overnight Stay: a complimentary night stay (with purchase of membership) in one of the resort's 386 elegantly-appointed guestrooms.
Wellness

Yoga: member pricing available for yoga taught by certified yoga instructor Sonya Taylor, who leads a physical, mental and spiritual practice straight from the heart. Each class, including a specialized yoga for golfers, is carefully constructed to encourage space and strength in the body while learning to focus on breathing. Sonya's yoga is not just a workout with stretches, it's a "work in."
Spa: 10%-off all treatments at Monarch Spa. Located inside the Centre, Monarch Spa is an oasis for peace and relaxation in the middle of the western suburbs. Monarch Spa's menu items range from custom massages and facials to a signature Warm Honey Drizzle body treatment that utilizes home-grown honey sourced directly from resort beehives.
Contact Brad Ott at 630-242-5778 or bott(at)oakbrookhillsresort(dot)com for further information on memberships.
About the Hilton Chicago/Oak Brook Hills Resort & Conference Center:
One of the Midwest's premier lifestyles and conference resorts is nestled away in the upscale suburb of Oak Brook, Illinois – just 20 miles west of Chicago. Completely renovated in 2016, the Hilton Chicago/Oak Brook Hills Resort & Conference Center (3500 Midwest Road, Oak Brook, IL 60523) offers over 42,500 square feet of stylish meeting and event space, making it an ideal venue for weddings, conferences, or weekend getaways. The 386 rooms and 39 suites are complemented by a stunning Grand Ballroom, a tented outdoor pavilion, an exclusive Executive Lounge, exercise/spa facilities, indoor and outdoor swimming pools, and the 18-hole Championship Willow Crest Golf Club. In addition, the resort boasts two full-service dining options – the acclaimed hyperlocal farm-to-table restaurant and lounge, B., and the scratch gastro pub, Tin Cup. The property, which has achieved IACC Green Star Gold Tier status, is managed by Westmont-based Portfolio Hotels & Resorts. Visit http://www.oakbrookhillsresort.com for reservations or more information, or call the hotel direct at 630.850.5555.
Media Contact:
Jody Grimaldi
Grimaldi Public Relations
630.470.0044
jody(dot)grimaldi(at)gmail(dot)com