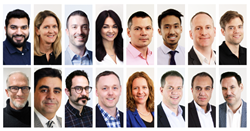 "Digital experience design is an evolving science. Our platform powers it, our people create it, and banks are able to build deeply meaningful relationships with their customers as a result of it," said Dr. Hossein Rahnama, Founder and CEO, Flybits.
TORONTO (PRWEB) February 28, 2020
Flybits, the first contextual experience design platform for the financial sector, announces the global expansion of its executive team in New York, Toronto, UK, and Dubai as the company prepares for another year of high growth. This recent round, made from late 2019 to early 2020, includes the appointment of new executive leaders and industry experts who will join existing senior leaders in spearheading growth and innovation across engineering, product, operations, and partnerships. Over the past year, Flybits has experienced a nearly 70% increase in growth and was named one of Canada's 50 Fastest Growing Technology Companies by Deloitte.
"Digital experience design is an evolving science. Our platform powers it, our people create it, and banks are able to build deeply meaningful relationships with their customers as a result of it," said Dr. Hossein Rahnama, Founder and CEO, Flybits. "The pace at which we are scaling our company in the face of increasing demand around the globe is a clear proofpoint that banks are recognizing the need for massive digital transformation."
The executive appointments include:

Gerti Dervishi, Chief Growth Officer: A founding member of the Flybits team, Dervishi has led a number of areas including customer success, strategy, and international partnerships, working with some of the world's leading financial services brands. In his new role, he will be working across the organization with a focus on optimizing growth for all key segments. Prior to Flybits, Gerti honed his skills at leading organizations such as CIBC and IBM. Dervishi holds a B.Sc. in Engineering from the University of Ottawa, an MBA from Ryerson University, and a Masters in Management Finance from Harvard University.
Brian Jamieson, Chief Operating Officer: During his career, Jamieson has held a variety of roles, including COO of Lone Wolf Technologies and SVP of Operations with HighJump Inc. His focus at Flybits is managing and optimizing the day-to-day operations while ensuring the company scales up to deliver an exceptional customer and partner experience. Jamieson holds a Bachelor of Commerce degree from Carleton University as well as an MBA from Queen's University.
Hannah Yardley, VP, People & Organizational Design: After a decade advising Fortune 500 clients on how to best solve their toughest talent challenges, Yardley joined the Flybits leadership team to scale its growth journey, while continuing to make the organization a hive for great talent in Toronto and across the globe. Yardley holds an honours degree from the Richard Ivey School of Business and an MBA from the Schulich School of Business.
Deborah Beatty, VP, Partnerships: Before Flybits, Beatty was at Apple in Dubai, as Head of Strategy for the Middle East & Africa, driving the company's long term plans for the region. As Flybits' new VP of Partnerships, Beatty is focused on growing and fostering the company's partnerships with technology and consulting firms. Beatty has a BA from Princeton University and an MBA from INSEAD.
Mark Reeves, Managing Director, Europe: As Flybits' Managing Director of Europe, Reeves is responsible for guiding regional growth and cementing the status of Flybits in the market. Prior to joining Flybits, he was part of the leadership team at Capco, supporting their offices in London and New York through rapid growth. Reeves has an MA from the University of St. Andrews.
Amir Yazdanpanah, Managing Director, MEA: With Flybits, Yazdanpanah is establishing a presence and position in the market to drive awareness and growth. An entrepreneurial IT executive, Yazdanpanah has held CEO, COO, and CIO positions in the US, UK and UAE, and founded a telecom software company, Telarix, in 1996. After moving to Dubai in 2011, he became COO of Voicetrust, an international identity and digital payment solutions provider. Yazdanpanah holds a BSc from the University of Sussex and an MBA from the Cranfield School of Management.
Aaron Booth, VP, Mid-Market Sales: Booth worked at GE Capital for 5 years in mid-market corporate finance in both a sales and risk capacity and managed partnerships with leading global equipment manufacturers prior to joining Flybits. In this role, he is driving revenue, building and managing sales and business development teams, and executing strategy for Flybits. Booth holds a BBA in Information Systems from Cape Breton University and an MBA in Finance from Dalhousie.
Nabeel Batlay, VP, Financial Services: Batlay joins Flybits having previously held leadership roles at ABN AMRO, RBS, Barclays, and HSBC. His mandate as VP is to solve business challenges faced by banks using the Flybits platform, and co-create customer-centric innovation. Batlay holds a BBA/BSC in Corporate Finance and Information Systems from the Ross School of Business, University of Michigan.
Jeremy Pallant, VP, Financial Services: Pallant has held executive roles at Scotia Bank and MATU Insights. His focus at Flybits is on optimizing engagement and value with enterprise-level financial institutions in Latin America. He holds a B.A (Hons) in Economics & Business Management Sciences at Carleton University and has taken post-graduate studies at the University of Toronto, Harvard University and Adolfo Ibañez University in Santiago, Chile.
Jason Davies, VP, Enterprise Innovation: As Mastercard's former Head of Digital Payments and Labs in Canada, Davies is leveraging next-generation platforms and technology to solve Flybits customers' business problems and create new growth opportunities for the company. Davis holds Hons. B.A.s in Psychology and Economics from McGill University and McMaster University and an MBA from the University of Windsor.
Matthew Singleton, Director, US Enterprise Solutions: Singleton joined Flybits to grow the New York office and work with clients to transform their ability to deliver 1:1 contextualized customer engagement. Prior to Flybits, his client work included Barclays, Morgan Stanley, Merrill Lynch, American Express, and JPMorgan. Singleton holds a BA in Economics from Dartmouth College and an MBA from Columbia Business School.
"Fresh off the heels of a stellar year of growth and opportunity, Flybits is looking to maintain that momentum by continuing to make investments in our product, partnerships, and people," said Rahnama. "I'm really excited to work with my team, to grow and expand the business in 2020 and beyond."
Flybits has made significant advances in its engineering and product teams through the appointment of multiple executives, most of which are long-time employees who were part of the founding team when Flybits was created in 2013. Throughout the years they were groomed to take on more leadership roles. Those executives are:
Arman Masoumi, VP, Engineering - Data Science & AI: Masoumi has a strong background in knowledge representation and reasoning, AI planning, and machine learning. As VP at Flybits, he leads the backend of the platform throughout its various stages and is currently focused on the company's AI strategy and vision. Masoumi has been the recipient of top awards in his academic endeavors in AI, including 'best thesis' within the Computer Science department. Prior to Flybits, he gained a wealth of experience in key roles at IBM. He holds a Bachelor and Masters Degrees in Computer Science from Ryerson University.
Ankur Patel, VP, Engineering - Core Services: Patel has contributed significantly to the development of the multifaceted Flybits platform, leading front end & squad teams to develop and maintain applications. As VP, Patel leads the front end development aspects, enabling his team to rapidly speed up their development capability using the latest architecture, while continuing to make the platform flexible and scalable and ensuring a high degree of quality and performance across all engineering teams. Patel has a Bachelor of Science from Ryerson University.
Petar Kramaric, VP, Engineering - Core Platforms: For more than a decade, Kramaric worked in cloud computing and mobile development, with early roots as a mobile developer at Flybits. As VP, he is now responsible for evolving and scaling the Flybits platform and has assumed more leadership responsibilities in managing new teams and initiatives to make Flybits highly successful and competitive. He is a graduate of Ryerson University where he completed both his Bachelors and Masters Degrees in Computer and Data Science.
Justin Lam, VP, Engineering - Core Systems: Lam has built scalable technologies at Flybits and has a deep understanding and knowledge of the platform. As VP, he is focused on leading, growing and advancing Flybits' back-end team and services. He previously built and led the customer-facing Solutions Engineering team. Lam has a Bachelor of Science from Ryerson University.
Jordanne Pavao, VP, Product: Pavao leads the entire Flybits product lifecycle from strategy to execution. She is dedicated to building high performing product teams and translating scientific and abstract digital capabilities into intuitive and scalable user experiences. Jordanne has a B.F.A. in Image Arts and a Masters Degree in Media Production, both from Ryerson University.
The newly-appointed executives will work closely together to power the continued growth of Flybits, building and evolving a differentiated contextual experience platform, and living out its core values driven by discovery, continuous learning, and strength in diversity.
To learn more about Flybits and its executive team, visit - https://www.flybits.com/about-us/leadership/
# # #
About Flybits
Flybits is the first contextual customer experience design platform for financial services, delivering true 1:1 personalization at scale. With the most advanced capabilities in the market, our enterprise-level solution brings personalized content, products, offers, and information to a bank's digital channels based on what each individual customer needs in the moment. With Flybits, banks are able to design, launch, and measure data-driven consumer experiences that deliver the right message to the right customer at the right time, while fiercely preserving their privacy.