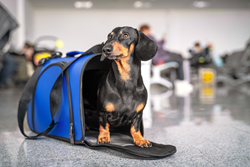 Pets are like members of the family, and they should be treated that way.
NEW YORK (PRWEB) January 12, 2021
Luxury Aircraft, LLC. has announced that amid new restrictions banning emotional support animals on several commercial airlines, travelers should know that they have other options and that flying private can offer much more flexibility. 
 
Up until recently, travelers on commercial flights were permitted to bring pets and certain animals on board as emotional support animals. However, new regulations that no longer require airlines to accommodate emotional support animals have resulted in bans across several major airlines. Travelers can still fly with pets in crates and in the cargo hold, but will no longer be able to bypass these limitations by declaring their pets as emotional support animals.
 
"Pets are like members of the family, and they should be treated that way," said Daniel Hirschhorn, Managing Director of Luxury Aircraft Solutions. "Most people are uncomfortable with putting their pets in the cargo section of an airplane, and understandably so. Crating is also not always an option. There are also people who truly need the emotional support and comfort that their pets can provide when traveling, and if their pets are crated or in the cargo hold, they aren't receiving that support. We want to remind travelers that we don't impose these types of restrictions on the private flights we provide. As a matter or fact, we allow pets without any special classification to fly in the cabin uncrated."
Emotional support animals can offer comfort to people suffering from certain ailments, disabilities, and mental illnesses, but they are not limited to providing support for those specific reasons. Pets can also be registered as emotional support animals if they generally improve someone's overall well-being, or help to provide companionship. 
 
Certifying a pet as an emotional support animal is often a fairly simple process, which is what prompted the change in regulations, as this certification means pets qualify for exemption from certain rules. While cats and dogs are the most common types of pets that are certified as emotional support animals, technically speaking, any species can be an emotional support animal. This is also what prompted a change; pigs, peacocks, and other unusual species were recently reported to be flying in the main cabins of commercial planes because travelers declared them as emotional support animals.
 
Service animals are still a special exception when it comes to flying, and will continue to receive exceptional onboard privileges to ensure the safety of the individuals they are traveling with. Although service animals and emotional support animals are often confused with one another, there is a significant difference. Animals must go through an extensive certification process to qualify as a service animal, which includes specialized training and passing an exam. It is usually a more convoluted and difficult process to certify an animal as a service animal rather than an emotional support animal, and not all situations qualify for this certification.
 
Because emotional animal support registration is a fairly simplified process, it prompted the Department of Transportation to reconsider regulations related to exceptions for emotional support animals on commercial airlines. In response to this ruling, several airlines have announced that they will no longer make special exceptions for pets registered as emotional support animals. Travelers are still permitted to fly with cats and dogs, but unless they are service animals, they must be crated in the main cabin. If they are too large for a crate, they will need to fly in the cargo compartment, but some airlines have also suspended checked pet service for the interim due to increased flight changes. Even when traveling in the cargo hold is an option for animals, it is not recommended due to the potential dangers. 
 
Most of the major nationwide airlines have immediately started implementing the ban on emotional support animals, including JetBlue, Delta Air Lines, United Airlines, American Airlines, and Alaska Airlines. Because this is a new announcement from the DOT, it is likely that all major airlines will ultimately follow suit and there will be a nationwide emotional support animal ban on all commercial airlines. Some of these rulings are effective immediately; others will be in effect in the near future. Anyone looking for more flexibility when traveling with their pets should strongly consider private options, such as a charter flight with Luxury Aircraft Solutions.
Since 2012, Luxury Aircraft Solutions has catered to clientele worldwide by offering private aircraft charters. Based in Long Island, New York, the charter company offers all available aircraft options for travelers, including helicopters, jumbo jets, and everything in between. They offer their services to business travelers, vacationers, celebrities and other public figures looking to maintain their privacy when traveling, and they also provide wholesale private jet charters through their jetmembership.com platform and jet cards through their Aviate program.
###
To learn more about Luxury Aircraft Solutions, please contact Daniel Hirschhorn at 1(631) 676-7488 or send an email to Daniel@LuxuryAircraftSolutions.com. Visit Luxury Aircraft Solutions on the web at http://www.luxuryaircraftsolutions.com.