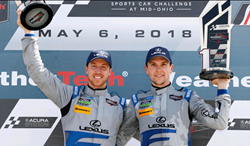 LEXINGTON, Ohio (PRWEB) April 17, 2019
On May 3, Kyle Marcelli will return to Mid-Ohio SportsCar Course after last year's "Cinderella story," back-to-back IMSA victories.
During the IMSA Continental Tire SportsCar Challenge race in 2018, Kyle Marcelli and Nate Stacy overcame a weak starting position and a last-minute scare to drive their #60 KohR Motorsports / Roush Performance Ford Mustang GT4 across the finish line first. "I got in the car sixth," says Marcelli, "and it was a never-give-up attitude the whole time. I took the lead with two laps to go, and there was some drama at the end where we had a mechanical issue, but it was enough to still win the race."
The following day, Marcelli paired with another driver, Dominik Baumann, and won the IMSA WeatherTech Sports Car Championship in the #14 RC F GT3 Lexus — a historic first North American victory for Lexus. At Mid-Ohio, Marcelli became one of only two IMSA drivers to win back-to-back races. From there, Marcelli maintained his momentum, completing the season with five more podium finishes, three of which were victories.
During this fairy tale season, one million fans saw Marcelli's car races — incredible awareness-raising for a cause close to the athlete's heart: autoimmune diseases, which affect over 50 million Americans. On the winning Lexus, Kyle's team promoted the Allegheny Health Network Autoimmunity Institute (Autoimmunity Institute), American Autoimmune Related Diseases Association (AARDA), and Race for RP – an awareness campaign associated with the Relapsing Polychondritis Awareness and Support Foundation (RPASF).
Located in Pittsburgh, the Autoimmunity Institute centralizes all of the specialists necessary to treat autoimmune diseases, from rheumatologists to cardiologists to gastroenterologists.
AARDA, whose funding comes primarily from public donations, grants, and bequests, is the only national organization dedicated to addressing the problem of autoimmunity.
Of the 100 or so autoimmune diseases, RPASF focuses on one: relapsing polychondritis or "RP," which causes the body to attack its own cartilage and the connective tissue between organs.
Recently, Lexus Racing released a limited addition 1/18 scale model of the #14 RC F GT3 Lexus (2018), the winning car driven by Marcelli and Baumann, complete with Autoimmunity Institute, AARDA, and Race for RP logos on the side.
To watch the video, AHN Autoimmunity Institute in the Winner's Circle, click here https://youtu.be/QzoJogK42eA.
Watch Kyle Marcelli in The Drive to Eradicate Autoimmune Disease.
About Kyle Marcelli
Canadian Kyle Marcelli is an established professional racing driver and one of North America's top rising stars in professional sports car racing. After a successful career in go-karts and single-seaters, Kyle made his professional debut at the pinnacle of sports car racing, the American Le Mans Series (ALMS) in 2010. Kyle's auto racing accomplishments include; FF1600 champion, FF2000 3rd, Porsche GT3 Cup champion, American Le Mans Series vice-champion, European Le Mans Series winner, Petit Le Mans 10H winner, Sebring 12H 2nd, Pirelli World Challenge winner, Trans Am Series winner, Thunderhill 25H winner, IMSA Continental Tire SportsCar Challenge Vice-Champion and IMSA WeatherTech SportsCar Championship winner. Kyle represents his passion, sport, sponsors, team and fans proudly and effectively. He's winning, engaging and always visible. For more information, visit http://www.kylemarcelli.com.
About AHN Autoimmunity Institute
The AHN Autoimmunity Institute is an unprecedented venture focused on advancing the diagnosis, treatment, prevention and cure of all autoimmune diseases, of which there are more than 100. The Institute's focus is on improved outcomes, increased patient satisfaction and quality of life, and decreased cost of care, through collaborative multispecialty care, cutting-edge research, advocacy and education in attacking these chronic diseases. For more information, visit http://www.ahn.org/autoimmunity-institute.
About Race for RP
Race for RP supports research, awareness programs, and cares for those who are affected by relapsing polychondritis ("RP") and related diseases. RP is a rare, debilitating, and in some cases fatal disease that attacks the patient's cartilage, including in the ears, nose, joints, and upper and lower airways. For more information, visit https://raceforrp.org.
About AARDA
The American Autoimmune Related Diseases Association (AARDA) is dedicated to the eradication of autoimmune diseases and the alleviation of suffering and the socioeconomic impact of autoimmunity through fostering and facilitating collaboration in the areas of education, public awareness, research, and patient services in an effective, ethical and efficient manner.
AARDA is the only national nonprofit health agency dedicated to bringing a national focus to autoimmunity, the major cause of serious chronic diseases. Approximately 50 million Americans, 20 percent of the population or one in five people, suffer from autoimmune diseases. Women are more likely than men to be affected; some estimates say that 75 percent of those affected--some 37.5 million people--are women. For more information, visit http://www.aarda.org.