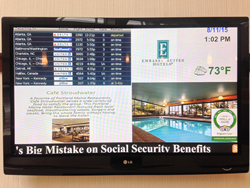 Our ownership wanted to give guests accurate airline flight information when it acquired the Embassy Suites Portland. Integrating Flyte Systems real-time flight display into our lobby signage was easy and an instant success with guests.
CHICAGO, IL (PRWEB) August 13, 2015
The busiest airport hotel in Maine, Embassy Suites by Hilton Portland, integrated Flyte Systems real-time airline flight information into its digital guest information signboard display. The hotel's lobby display now gives guests continuously updated airline arrivals and departures for Portland International Jetport. Flyte Systems is the leading provider of cost effective airport travel information displays and digital signage content for the hospitality, corporate training centers, digital signage, convention center industries and related businesses. Click here to request information on Flyte Systems' airport travel and guest information services.
Flight information is 'instant success' with guests
"Our ownership wanted to give guests accurate airline flight information when it acquired the Embassy Suites Portland. Integrating Flyte Systems real-time flight display into our lobby signage was easy and an instant success with guests," said Jeanne Carpentier, regional director of sales & marketing for the property's management company Emerald Hospitality. The property is directly adjacent to the Portland International Jetport and offers 24-hour shuttle service, 'park and depart' packages and a number of travel amenities.
Flyte Systems airport information easily added to existing digital signage
"The airport plays a major role in our sales and marketing," Carpentier said. "We host corporate business travelers and families from all over the world. We worked with Flyte Systems to ensure airline information is always visible on our lobby display. It was very easy to add Flyte Systems to our property's digital signage."
Embassy Suites Portland General Manager Stacy O'Reilly said, "Many guests stay the night before their flight. They can easily check their departure time and relax for breakfast. We are a short walk from the terminal and some travelers come to have a meal and wait for their flight. It is much more comfortable than a concourse and they can trust our FlyteBoard to keep them on time. There have been frequent departure delays this summer due to lightning storms. Flyte Systems keeps them informed. The display is easy to understand and always accurate."
"Many properties have existing digital signage that can easily be upgraded with the addition of Flyte Systems' airport schedule information," said Scott Triphahn, vice president of Flyte Systems. "Airlines frequently oversell flights. That is why it is essential to be on time for departure and aware of any gate changes. Flyte Systems provides this information continuously, it is updated in real-time so property guests can make their flights with confidence or easily extend their hotel stay if there is a cancellation."
Flyte Systems provides low-cost, real-time flight information
Flyte Systems' suite of products that serve the traveling public includes:

FlyteBoard is a wall, floor, or ceiling-mounted flat panel screen for lobbies, restaurants, bars, and other public areas. FlyteBoard displays flight information for one or more airports.
FlytePass combines FlyteTouch with free, secure boarding pass printing. It is available as a standalone unit, or neatly packaged in either an all-wood kiosk or an integrated metal kiosk to match your décor.
FlyteTouch enables individual guests to search flight information using an interactive touch screen that displays real-time flight arrivals and departures for one or more airports.
FlyteChannel permits guests to view live airport flight information conveniently and comfortably from their in-room television.
FlytePad is a mobile-ready service that delivers real-time airline information via the iPad.
EventDisplay displays user-configurable meetings and events on screens shared with flight information or on its own dedicated screen.
EventChannel shows property events and specials on the guest's TV.
AmenityBoard lets hotels display profitable amenities anywhere.
InfoBoard is a cost-effective touch screen display that saves labor, provides greater guest service, and generates revenue with flight information and so much more.
Many hotels and resorts also use Flyte Systems' applications to increase revenue with innovative marketing approaches for distressed travelers. For tips on how to generate revenue by providing guests with Flyte Systems airline information, please log on to the Flyte Systems website at http://www.flytesystems.com.
About Flyte Systems
Flyte Systems is a division of Industrial Television Services (ITS), based in Chicago. ITS is a leading digital signage solutions company with more than 50 years of experience specializing in real-time information delivery. Flyte Systems was formed in 2007 to offer real-time, web-based travel technology solutions. Flyte Systems provides subscription-based, environmentally responsible airport flight information and digital signage displays for the hospitality, convention center, and digital signage industries and related businesses. The company's solutions deliver accurate, instant, airport-centric updates of flight information – not just FAA-provided departure times that may be inaccurate when there is a ground delay. Flyte Systems solutions enable properties to differentiate themselves and boost repeat business with 'glance-and-go' content and property promotions. Its products use Energy Star-compliant digital displays to help significantly reduce energy consumption and eliminate unnecessary trips to the airport. Clients include Marriott, Hyatt, Hilton, Starwood, Westin, IHG, Days Inn, Hotel Sofitel, independent properties, convention centers, and transportation centers.
About Embassy Suites Portland
The Embassy Suites has 119 guest suites and is located at 1050 Westbrook Street. The hotel provides guests with a full complement of services and amenities, including breakfast, lunch and dinner served at the Café Stroudwater. All Embassy Suites Hotels offer spacious two-room suites that include a separate living area with a sofa bed and well-lit dining/work table, private bedroom and bath, hair dryers, MP3 clock radio, two flat screen televisions, two dual-line phones, high-speed Internet access, a wet bar, mini-refrigerator, microwave oven, an iron and ironing board, a fitness center, a free, cooked-to-order breakfast each morning and a complimentary two-hour Manager's Reception* each evening. To make reservations, travelers can visit Embassy Suites Hotels at http://www.embassysuitesportland.com, call 1-800-EMBASSY or call the hotel directly at (207) 775-2200.