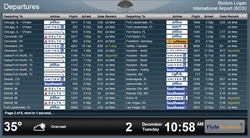 We strive to make traveling for guests as effortless as possible by providing real-time airline arrival, departure and gate information in the convenience of our guestrooms.
CHICAGO, IL (PRWEB) December 16, 2014
Mandarin Oriental, Boston gives guests the gift of more comfortable – and confident – travel this holiday season by implementing FlyteChannel onto all of their guestrooms televisions. FlyteChannel, developed by Flyte Systems, provides real-time airline flight information for Boston's Logan International Airport. Flyte Systems is the leading provider of cost effective airport travel information displays and digital signage content for the hospitality, digital signage, and convention center industries and related businesses.
FlyteChannel blends technology with guest service
Mandarin Oriental, Boston's General Manager, Alain Negueloua said, "Boston Logan International Airport serves as the gateway to our city for many of our business and leisure travelers. We are always looking for new ways to blend technology with superior service to benefit our guests. We strive to make traveling for guests as effortless as possible by providing real-time airline arrival, departure and gate information in the convenience of our guestrooms."
Scott Triphahn, Flyte Systems vice president said, "FlyteChannel is a valuable amenity for hotel guests, particularly during high-volume travel seasons. FlyteChannel displays cities, flight numbers, scheduled and actual arrival/departure times, airline logos, and gates in the same familiar format used by airports." FlyteChannel is compatible with all major in-room TV technologies. Flyte Systems works with the property's in-room provider to get FlyteChannel up-and-running – quickly and smoothly.
An intimate, luxurious hotel, Mandarin Oriental, Boston combines classic New England elegance with refined Oriental touches to create one of the most distinctive hospitality experiences. Awarded both Forbes Five-Stars and AAA Five-Diamonds, Mandarin Oriental, Boston features 148 guestrooms and suites, delighting guests with the finest facilities and service, innovative dining experiences, and an unparalleled holistic Five-Star awarded spa. A short, 15-minute drive to Logan International Airport, Mandarin Oriental, Boston connects guests to the city's finest shopping, cultural venues and business institutions from its prime location in the heart of chic Back Bay on Boylston Street.
Flyte Systems provides low-cost, real-time flight information
Flyte Systems offers a suite of products that serve the traveling public: FlyteBoard, FlytePass, FlyteChannel, FlyteTouch, FlytePad with handheld mobile airline information, and Event Module. The company's latest innovation is InfoBoard, which combines airline flight information with total property way-finding, weather, traffic, area attractions, and much more.

FlyteBoard is a wall, floor, or ceiling mounted high-definition, flat panel screen for lobbies, restaurants, bars, and other public areas, displaying flight information for one or more airports.
FlytePass combines FlyteTouch with free, secure boarding pass printing. It is available as a standalone unit, or neatly packaged in either an all-wood kiosk or an integrated metal kiosk to match your décor.
FlyteChannel permits guests to view live airport flight information conveniently and comfortably from their in-room television.
FlyteTouch enables individual guests to search flight information using an interactive touch screen that displays real-time flight arrivals and departures for one or more airports.
FlytePad is a mobile-ready service that delivers real-time airline information via the iPad, enabling hotel staff to provide guests with airline information anywhere and anytime.
Flyte's Event Module displays user-configurable meetings and events on screens shared with flight information or on its own dedicated screen.
InfoBoard is a cost effective touch screen display that saves labor, provides greater guest service, and generates revenue with flight information and so much more.
Many hotels and resorts also use Flyte Systems' applications to increase revenue with innovative marketing approaches for distressed travelers. For tips on how to generate revenue by providing guests with Flyte Systems airline information, please log on to the Flyte Systems website at http://www.flytesystems.com.
About Flyte Systems
The Flyte Systems Division of Industrial Television Services (ITS), based in Chicago, Illinois, is the leading provider of subscription-based environmentally responsible airport flight information displays for the hospitality, convention center, and digital signage industries and related businesses. It delivers accurate, instant, airport-centric updates of flight information – not just FAA provided departure times that are based on the planned schedule only and do not update when there is a ground delay. Properties are able to differentiate themselves and boost repeat business with 'glance-and-go' content critical to a traveler's day. Flyte Systems' product suite builds upon ITS's 50-year history as the leading provider of live flight information to airports, airlines, government agencies, port authorities, and other travel-based businesses. Flyte Systems was formed in 2007 to offer web-based travel technology products. Flyte Systems products use Energy Star-compliant digital displays to help significantly reduce energy consumption and eliminate unnecessary trips to the airport. Clients include Marriott, Hyatt, Hilton, Starwood, Westin, IHG, Days Inn, Hotel Sofitel, independent properties, convention centers, and transportation centers.