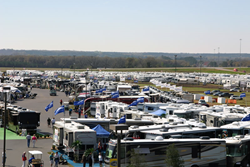 Families can plan vacations around FMCA's event and explore all that the western United States has to offer...
Cincinnati, Ohio (PRWEB) May 17, 2017
Family Motor Coach Association (FMCA), an international organization for motorhome owners, has announced plans to hold its 98th International Convention & RV Expo at Cam-Plex Multi-Event Facilities in Gillette, Wyoming. The dates for the event are July 18 through 21, 2018.
FMCA first held an international convention at Cam-Plex in June 2013, when 2,639 motorhomes gathered at the facility to enjoy a broad range of activities. The Cincinnati, Ohio-based association celebrated its 50th anniversary during that get-together.
FMCA international conventions include an RV Expo that showcases the latest motorhomes, as well as booths filled with a wealth of RV-related accessories, components and supplies, plus companies offering services RVers need and want.
"Attending an FMCA convention is a great way to check out the latest motorhomes and RV products," FMCA national president Charlie Adcock said. "Not only that, but it's a fantastic way to learn more about the RV lifestyle, with RV experts presenting seminars about a variety of topics. I'd be leaving out my favorite part, though, if I didn't mention how much fun it is to spend time with other RV enthusiasts. I love getting together with friends I've made at past events and meeting new people, too."
Set in northeastern Wyoming, Cam-Plex encompasses more than 1,000 acres of land — plenty of room for parking RVs — and boasts a number of large climate-controlled buildings that make it ideal for an FMCA International Convention and RV Expo. The RV-friendly facility also has 1,730 RV sites with various types of hookups, including 1,146 full-service sites and 584 sites with water and electric, plus general parking spots.
Cam-Plex also is ideal for a gathering of RVers because of its relatively close proximity to a number of national parks and monuments, the closest being Devils Tower National Monument, which is approximately an hour's drive away from Gillette.
"Families can plan vacations around the FMCA event and explore all that the western United States has to offer, either on their way to the convention or on their way back home," said Jon Walker, FMCA national senior vice president, and chairman of the FMCA Convention Committee.
Registration for the event in Gillette will begin on January 10, 2018. Owners of all types of RVs are invited to attend, and various registration options will be offered.
RVers need not wait until then to join the fun. FMCA currently is accepting registrations for its July 12 through 15, 2017, event in Indianapolis, Indiana. And registration for FMCA's 97th International Convention and RV Expo — scheduled for March 15 through 18, 2018, in Perry, Georgia — will begin on September 13.
To register, or for more information, visit FMCA.com or call (800) 543-3622 or (513) 474-3622.
Family Motor Coach Association (FMCA) is an international organization for families who own and enjoy the use of self-contained, motorized recreation vehicles known as motorhomes. The association maintains its national headquarters in Cincinnati, Ohio, and currently has more than 70,000 active member families. FMCA offers its members a number of benefits, including a subscription to its monthly magazine, Family Motor Coaching; a medical emergency and travel assistance program valued at $105 per family; a tire purchasing program; group rates on a roadside assistance program and on motorhome and auto insurance; and discounted rates for RV tours and caravans. Perhaps the most important benefit of FMCA membership is the camaraderie and friendships that develop among people enjoying the common interest of motorhome travel and recreation. The organization can be reached at (513) 474-3622 or (800) 543-3622 and on the web at FMCA.com.