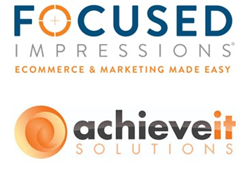 FocusPoint and Resolv give customers an out-of-the-box e-commerce platform that integrates transactions from the web into the warehouse
BOSTON (PRWEB) April 15, 2020
Focused Impressions, making eCommerce and marketing easy for SAP Business One® users, today announced a new partnership with Achieve IT Solutions, an award-winning SAP Business One reseller and provider of Resolv. Resolv is a fully integrated suite of distribution, logistics, and warehouse management software for SAP Business One. Achieve IT, among a fast-growing Focused Impressions SAP partner network, can now offer its customers FocusPoint -- a single platform for both B2B and B2C eCommerce and marketing with capabilities such as 35 built-in templates, a pixel-perfect product customizer, and responsive design that enable eCommerce processing from any device. Focused Impressions and Achieve IT will host a joint webinar, open to both SAP and non-SAP customers, which will detail and demonstrate the benefits of their combined solutions – Strengthen Your Supply Chain from Web to Warehouse with FocusPoint and Resolv (April 29, 2020 at 11:00 am ET).
"Currently, supply chain businesses are facing unprecedented challenges," said Timothy Singleton, CEO of Achieve IT Solutions. "And, eCommerce is an important tool that can help strengthen the supply chain to meet these challenges and enable growth. FocusPoint bundled with our Resolv suite of supply chain applications will give customers an out-of-the-box e-commerce platform that integrates transactions from the web into the warehouse, helping to reduce order-to-fill rates. The Focused Impressions solution empowers us to deliver capabilities that create and sustain a customer experience that fuels online sales and leverages the power of SAP Business One with a smooth and seamless integration."
Improving Distribution Strategies for SAP Business One
A modern and streamlined distribution strategy is integral to the supplier management framework. It reduces product decay while improving customer service. Moreover, the broader field of supply chain management can help businesses plant seeds for long-term financial stability. "We're delighted to partner with Achieve IT and have FocusPoint become integral to distribution and supply chain strategies," noted Craig Stockmal, founder and CEO of Focused Impressions. "Our deep process integration with SAP Business One gives Achieve IT's customers an enhanced order-to-cash process plus the real-time information they need to reduce costs, improve data accuracy, streamline business processes, and enhance customer service."
FocusPoint capabilities, now available with Achieve IT Solution's Resolv, include:

B2B and B2C marketing that aggregates marketing content and vendors in a single place to streamline campaign execution.
Self-service portals and webstores setup up in just minutes – no connectors, no development time required due to tight integration with your product catalog in SAP Business One.
Core mappings and bi-directional functionality with SAP Business One for deep business process integration.
Support for 260 languages and multi-currency localization.
Automated bulk order processing, and localized sales tax and shipping.
These capabilities and more will be demonstrated in the Achieve IT and Focused Impressions webinar Strengthen Your Supply Chain from Web to Warehouse with FocusPoint and Resolv:
Date: April 29, 2020
Time: 11:00 am ET
Register Here
About Focused Impressions
Founded in 2014, Focused Impressions is a certified SAP Solution Provider dedicated to the SAP Business One global community. The company's flagship product – FocusPoint™ – provides innovative and affordable B2B and B2C eCommerce and marketing software with enterprise-level capabilities that are easy to use and manage. The solution is available from SAP resellers as well as direct sales to consumer products, retail eCommerce, wholesale distribution, and B2B management companies. Visit Focused Impressions. Follow us on LinkedIn and Twitter.
###
All product and service names mentioned herein are the trademarks of their respective owners.