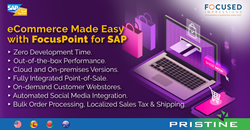 No other solution comes close to FocusPoint's deep and seamless integration with SAP Business One.
BOSTON (PRWEB) July 15, 2020
Focused Impressions, making eCommerce and marketing easy for SAP Business One® users, today announced a new partnership with Pristine Solutions, a gold-level SAP Business One partner serving customers across Sri Lanka, Central Africa, Australia, and Bangladesh. Pristine will resell FocusPoint™, the first certified cloud-based solution for B2B and B2C eCommerce and marketing built exclusively for SAP Business One. On July 16, 2020, Pristine Solutions will introduce its customer base to FocusPoint in a joint webinar with Focused Impressions.
FocusPoint: Best-of-Breed eCommerce for SAP Business One
"Pristine Solutions is passionate about digitizing our customers' businesses so that they can experience the fastest return on their investments," said Sanath Madhawa Premachandra, CEO of Pristine Solutions (Pvt) Ltd. "To achieve our mission, we work with technology leaders who bring best-of-breed innovations to our solution portfolio. Focused Impressions distinguishes itself as an eCommerce technology leader with their FocusPoint solution for SAP Business One. No other solution comes close to FocusPoint's deep and seamless integration with SAP Business One, which will enable our customers to move forward quickly with their eCommerce initiatives."
Pristine Solutions serves a variety of vertical industries in the SAP Business One space including agribusiness, apparel, food and beverage, and healthcare. "In today's world, it's incumbent upon every one of these businesses to have a robust webstore that is continually updated in real-time with access to all the order and account information in their SAP Business One ERP system -- and FocusPoint delivers," noted Craig Stockmal, founder and CEO of Focused Impressions. "We are thrilled to be working with an SAP Business One powerhouse like Pristine Solutions in bringing the value of FocusPoint to their customers."
A single platform for both B2B and B2C eCommerce and marketing with multi-channel capabilities, FocusPoint features include:

Flexible Installation Options with cloud and on-premises versions
Out-of-the-Box Integration to accelerate the solution's time-to-value
SAP Integration Tools for fast implementations and automatic SAP Business One updates
Unlimited Customer Webstores/Portals setup in minutes at no additional cost
Fully Integrated Point-of-Sale to ensure pricing, inventory, and SKUs are up to date
Built-In Product Customizer for creating pixel-perfect images
Intelligent Product building and routing with automated eForms
Social Media Integration to give sales and marketing programs an added lift
These capabilities and more will be demonstrated in the Pristine and Focused Impressions Webinar:
eCommerce Made Easy for SAP Business One
Date: July 16, 2020
Time: 3:00 pm IST (GMT +5:30)
Free Registration
About Focused Impressions
Founded in 2014, Focused Impressions is a certified SAP Solution Provider dedicated to the SAP Business One global community. The company's flagship product – FocusPoint™ – provides innovative and affordable B2B and B2C eCommerce and marketing software with enterprise-level capabilities that are easy to use and manage. The solution is available from SAP resellers as well as direct sales to consumer products, retail eCommerce, wholesale distribution, and B2B management companies. Visit Focused Impressions. Follow us on LinkedIn and Twitter.
About Pristine Solutions
In a fast-moving world, Pristine Solutions combines deep industry experience with the latest in technology to design information system solutions that meet the demands of evolving businesses. Pristine Solutions is an SAP Gold partner with a global presence in Asia, Pacific and the USA. Pristine Solutions implements and services SAP Business One and SAP Business ByDesign with more than 150 SAP implementations over the past decade. From its founding in 2005, the company has focused in delivering value-add solutions to customers in the process of creating new technology-driven solutions from Pristine software development. Software solutions developed by Pristine Solutions have received numerous awards including SAP SMB Seedx Development Challenge in 2018 and 2019 and have been recognized by NBQSA organized by British Computer Society in Sri Lanka and presented at Asia Pacific ICT Awards. These solutions embrace new technologies such as Block Chain, Machine Learning, IoT, and mobile applications that give our customers a competitive edge. Proud to be an SAP Gold-level Partner for SAP Business One, we support a variety of industry verticals. Visit Pristine Solutions. Follow us on LinkedIn and Facebook.
###
All product and service names mentioned herein are the trademarks of their respective owners.