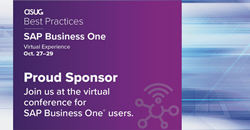 We're seeing unprecedented interest in FocusPoint from SAP Partners and Business One customers.
BOSTON (PRWEB) October 26, 2020
Focused Impressions, making eCommerce and marketing easy to use for SAP Business One® users, announced today that executives from The Torsion Group and Triple S Sporting Supplies will be featured speakers at the ASUG SAP Business One Virtual Conference, formerly known as Biz.One. Torsion Group and Triple S are among the growing number of SAP Business One customers integrating the FocusPoint eCommerce and marketing platform with their ERP system, resulting in streamlined order processing and increased online sales. In addition to customer presentations, Focused Impressions will host an ASUG Think Tank on Digital Transformation. The ASUG virtual conference will run from October 27-29, 2020.
FocusPoint is Gaining Traction
Built exclusively for SAP Business One, FocusPoint gives companies real-time access to all SAP business logic and data while offering the deepest eCommerce integration to SAP Business One on the market. Core mappings and bi-directional functionality are ready to go – out of the box.
"Tight integration with SAP Business One combined with the solution's strong eCommerce and marketing capabilities make a compelling business case, which is validated by the unprecedented interest we see for FocusPoint from SAP Partners and Business One customers," said Craig Stockmal, founder and CEO of Focused Impressions. "We're thrilled that The Torsion Group and Triple S Sporting Supplies will be sharing their FocusPoint eCommerce journeys with the SAP Business One community."
Editorial Note – mark your calendars for the following ASUG Best Practices for SAP Business One sessions:
October 27 – 2:05 pm ET: Think Tank on Digital Transformation: Charles Robinson, CTO of Focused Impressions, will discuss how SAP Business One users are transforming their e-commerce strategy to adapt to today's ever-changing environment.
October 28 – 11:35 am ET: Opening More Doors to B2B and B2C eCommerce with SAP Business on and FocusPoint. Marc Calcaterra, CEO of The Torsion Group.
October 29 – 12:30 pm ET: Putting More Lines in the Water with SAP Business One and FocusPoint. Clifford Harris, VP of Triple S Sporting Supplies.
About Focused Impressions
Founded in 2014, Focused Impressions is a certified SAP Solution Provider dedicated to the SAP Business One global community. The company's flagship product – FocusPoint™ – provides innovative and affordable B2B and B2C eCommerce and marketing software with enterprise-level capabilities that are easy to use and manage. The solution is available from SAP resellers as well as direct sales to consumer products, retail eCommerce, wholesale distribution, and B2B management companies. Visit Focused Impressions. Follow us on LinkedIn and Twitter.
###
All product and service names mentioned herein are the trademarks of their respective owners.