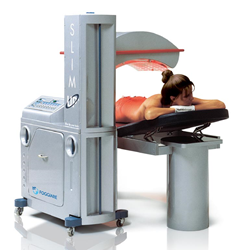 Foggiare offers a unique, whole-body approach to beauty and wellness for women and men. Slim-Up, exclusive to Foggiare in the U.S., is a scientifically-proven program to smooth and tone skin, reduce the look of cellulite, and slim and sculpt the body.
LARGO, Fla. (PRWEB) July 10, 2019
Foggiare--the first and only U.S. company to offer Slim-Up treatments--is now the exclusive U.S. distributor for this unique and effective beauty and wellness technology. Developed by Sauna Italia, an Italian manufacturer of advanced aesthetic and wellness equipment, Slim-Up is a 4-part system that is already a proven success in over 180 locations in Europe and Asia. Slim-Up is scientifically proven to be effective in smoothing and toning the skin--improving the look of cellulite--as well as slimming and body sculpting. Specialized programs also assist with weight management, combating the signs of aging, improving overall wellness, and providing sports training through treatments that help boost metabolism, burn calories, improve cardiovascular health, build muscle strength, relieve joint pain and speed recovery.
The unique Foggiare concept takes clients through a series of custom treatments over 2, 4 or even 10 weeks, based on client needs. Foggiare takes an individualized whole-body approach to improving both appearance and wellness for women and men of all ages. "We are excited to offer the Foggiare concept in the U.S.," says Thierry Germanovich, owner of the Foggiare Wellness Center. "Unlike many treatments specific to body sculpting, our system effectively includes the treatment of prevalent cosmetic concerns, while also taking a whole-body approach to promote overall wellness.This gives women and men a way to look and feel good, with a system that delivers improvement in appearance and health."
In these custom programs, clients are first analyzed at the "Slim-Up Station"--a technology that quickly assesses hundreds of data points to design a customized program specific to their physiology and treatment goals. Each program includes a 6-page comprehensive wellness report and a series of treatments that utilize numerous methods and configurations to achieve highly personalized results. These technologies include:
"Slim-Up Must," an FDA-cleared device that combines 6 infrared ray sources and three electrical muscle stimulation programs to target stubborn fat areas and specific muscle groups. Two main functions serve to tone or slim the body, with settings specific to each target area and objective. These "electrosculpt treatments" are combined with several steam and drain sessions.
"Slim-Up Steam" is a newly-designed beauty therapy unit combining the thermal effect of infrared rays with the beneficial effects of steam and aromatherapy. There are five programs alternating and combining functions that focus on toning, slimming and eliminating impurities from the skin and body. This program component is also essential for the multi-factor treatment of cellulite.
"Slim-Up Drain" delivers presso-massage to the whole body, assisting the mobilization of fluids. The unit combines elements to treat each portion of the body (upper and lower limbs) with sea wave technology, a system made up of overlapping segments that are sequentially inflated and deflated to enable progressive pressure without interruption. When the lymphatic system is clogged with metabolic waste, consequences include swelling, cellulite, inflammation, fatigue, weight gain and skin issues – making this treatment essential to boosting the effectiveness of the overall program.
Sauna Italia is one of the most successful international manufacturers of beauty and wellness technologies, with more than 40 years innovating in this field. They conduct extensive research, testing and scientific studies in the creation and quality design of the most advanced and effective systems for spas and wellness centers.
Foggiare Wellness Center is located in Largo, Florida, also servicing the Tampa and St. Petersburg areas. Attracting many female and male clients that are now experiencing the benefits and excellent results from their treatment programs, Foggiare Wellness Center plans to expand to new locations in the U.S., with a new center in Boca Raton, Florida coming soon. In addition, Foggiare Technologies is now offering their concept and Slim-Up system to other providers or investors interested in joining the growing aesthetics and wellness markets.