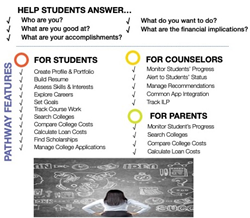 Pathway is tailor-made for remote learning. - Phil Solomon
WESTFORD, Mass. (PRWEB) March 11, 2021
Pathway by FolderWave offers students, school districts, community-based organizations, and adult learners a proven comprehensive platform to research and plan a student's path for success, whether through college or a job-oriented technical education. The journey begins with self-discovery and Pathway offers a clear route to get there.
The platform, which is utilized by students and school counselors across the Commonwealth of Massachusetts as MEFA Pathway, offered by MEFA (the Massachusetts Educational Financing Authority), guides secondary school students through a "pathway" of ongoing exploration. Students can shape their future while learning key skills on the way to adulthood. The journey starts with fun assessment tests where the answers students provide reveal careers that may be of interest to them. Through deeper career exploration, students can begin to narrow the possibilities for them after high school, whether it be via college or other avenues. Pathway also introduces students early to the importance of financial literacy and teaches them essential skills such as analysis (through college cost comparisons), budgeting (through cost calculation tools), and decision-making based on wants versus needs.
"We are proud to offer a product, in partnership with FolderWave, that supports students across the Commonwealth as they plan for college and career," said Tom Graf, Executive Director at MEFA.
Beyond Massachusetts, Phil Solomon, Director of Secondary Schools, West Warwick Public Schools in Rhode Island which currently uses Pathway by FolderWave said, "The assignments are more concrete, and the tool helps motivate the students, especially getting the middle schoolers in the right head space to guide them." Phil went on to say "Using Pathway has been especially helpful with remote learners, since they are on a hybrid schedule. The kids are kind of in limbo when working from home. Now they have assignments they can work on independently. Learning how to be self-directed is so important in remote learning, not just during this pandemic, but anytime. In Pathway they are always able to work on something. Pathway is tailor-made for remote learning."
Pamela Brennan, Executive Director of Client Success at FolderWave , reflects on the countless hours she has spent gathering feedback from clients. "The feedback we are receiving from both educators and students is exciting! The common message heard is that the platform is comprehensive and it aligns with Individual Learning Plans. The tool is easy to use and the students really like it."
To learn more about how Pathway by FolderWave can help your school or organization, contact us at info@folderwave.com or to view a product video and learn more go to http://www.folderwave.com/about-pathway/ or visit the video links below:
https://youtu.be/dzSMLIk0Rhw
https://youtu.be/IIgT9zJgfg4
About FolderWave, Inc.
FolderWave's cloud-based products and services are designed to significantly improve complex, high-volume, and time-dependent process and data management operations in many operational areas of Higher Education and K-12 Education. FolderWave is driven to empower students and lifelong learners to seek their own paths to achieve their goals.