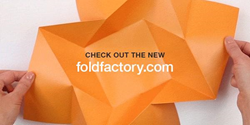 I've got years worth of exciting folding formats in the pipeline. We're just getting started.
Hunt Valley, Maryland (PRWEB) September 23, 2015
This week, Foldfactory makes printing history as the company ventures into the uncharted waters of on-demand specialty printing services. Headquartered in Hunt Valley, Maryland, the company recently launched a new print-on-demand website that is a one stop shop of specialty creative and complex folded print products. Now Foldfactory offers dielines, samples, comping and printing services for unique specialty folded print products such as the Tulip, Pinwheel Twist and Traveling Snake. To accommodate this, the company has added manufacturing operations in Chanhassen, Minnesota — a centralized location for shipping across the nation, and all over the globe.
Foldfactory has evolved dramatically since its beginning in 2002 as a publisher of folding-related books and software. After winning the GATF InterTech Technology Award in 2004 for its FOLDRite™ template-building technology, company leaders recognized the interest in creative specialty formats, direct mail, and a global need for the precise, and often highly complex, digital dielines required to create specialty products.
"Over the years, we have received countless requests to help customers, not only with the tools they needed to produce the formats, but also with requests to print and fold them," states Trish Witkowski, founder of Foldfactory. "It was always so frustrating to tell people that we couldn't produce anything for them. However, we also knew that to go from creating dielines and software tools, to full-on print production services with die cutting and folding was going to be a gigantic leap that we couldn't ease our way into. If we were going to do it, it would be all or nothing."
The Minnesota expansion took close to a year to complete, and it helped to transform Foldfactory from the ground up. The changes include a new website and store front that features rollover videos of formats folding and unfolding, comping services, print production, folding, mailing services and more. Customers can also order quality blank folded samples on Sappi Opus DX paper with instant dieline downloads. Foldfactory is an HP Print Partner, printing on HP Indigo 10000 and 7800 presses, and using a MotionCutter® digital high-speed laser-cutting system for quick-turn comping services and orders. The printed pieces are then professionally hand folded by Foldfactory's folding experts. The company expects to continue adding the best in digital print finishing, special effects, and additional printing and folding offerings as the business grows.
"This really has been my vision all along," states Witkowski, "but technology had to catch up to my idea. Conventional print and finishing could not keep pace with the variation in truly specialized print products. You really need the nimbleness of digital print, plus the highest quality printing and finishing standards, and quick turn around times. And you have to be able to produce just one. Yes, one – and of course to print thousands is the easy part. To have that kind of range at a price that is attainable for the average marketer is exciting and disruptive – and it wasn't possible until just recently. Advancements in digital printing and finishing have made it possible to print all of these incredible formats that we've been featuring at Foldfactory and in our books over the years. Even better, we'll be constantly adding new dielines for other creative formats that I've been collecting and studying for nearly two decades. I've got years worth of exciting folding formats in the pipeline. We're just getting started."
Foldfactory is launching with 24 Super-Cool Folds™, and in October will begin releasing four new formats per month, setting an aggressive pace of 48 formats per year. They will also periodically release special collections, including a Holiday line of 9 creative folded holiday card formats that will be available in October 2015.
In addition, Foldfactory is starting a membership program called "Fold Club." This complimentary subscription gives members unlimited access to Foldfactory's award-winning FOLDRite template-building service – a service that, until now, has always been a paid subscription. Plus, members will get the inside track on new format releases and will receive the inspirational "60-Second Super-Cool Fold of the Week" in their inbox every Thursday.
To learn more about Foldfactory, please visit the website: http://foldfactory.com
About Foldfactory
Foldfactory is a one-of-a-kind company dedicated to the art of folding paper for a variety of print needs, including marketing collateral, event stationery, print product essentials and more. The company offers unique folding dieline templates, as well as full printing, folding and mailing services. Foldfactory uses state-of-the-art digital presses and die cutting equipment with an extensive selection of paper stocks, as well as a variety finishing options. To see Foldfactory's full lineup of offerings and to learn more, please visit http://foldfactory.com