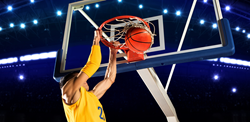 These results are exciting and encouraging because they can help guide athletes when choosing a nutritional and healthy diet as part of their overall training, Bob Quinn, Founder of Kamut International.
BIG SANDY, Mont. (PRWEB) July 21, 2020
With several studies indicating that competition-level training induces low-grade inflammation, which is associated with an increased risk of chronic degenerative diseases such as cancer, diabetes and heart disease, the University of Bologna conducted an interesting study that selected healthy young basketball players, between 15-32 years old to examine the effect of a diet based on khorasan wheat on the body's response to their physical activity.
Although not surprising since this ancient grain is widely recognized for its beneficial effects on human health, the results showed a decrease of MCP-1 (-26%), a pro-inflammatory protein that significantly increases in concentration in plasma following intensive short-duration exercise. Additionally, the study found that the KAMUT® khorasan wheat diet contributed to an improvement in the self-reported health status of the young athletes.
"These results are exciting and encouraging because they can help guide athletes when choosing a nutritional and healthy diet as part of their overall training," said Bob Quinn, Founder of Kamut International. "It's important to keep conducting research and studies that can pave the way for more nutritional and healthful solutions."
According to the researchers involved in the study, and based on the position of the American Dietetic Association and the American College of Sports Medicine, which states that athletic performance is enhanced by optimal nutrition, they analyzed if the performance of athletes improved by simply modifying the type of wheat in their diet. Athletes were instructed not to alter their eating plan during the period of the study, and to consume the same daily amount of pasta, bread, biscuits and crackers made either with khorasan (KAMUT® brand) or modern semi-whole-grain wheat for 4-weeks with a 4-week washout period before the crossover.
Other studies have shown that consuming KAMUT® wheat bread and pasta can increase antioxidant protection and reduce inflammation when compared to regular modern durum wheat bread and pasta. Additionally, results of a study published in 2014 demonstrated that consumption of KAMUT® khorasan wheat products was characterized by release in the gut of more Short Chain Fatty Acids (SCFA) and phenolic compounds, as well as an increase in health promoting gut bacteria. SCFA play a key role in nutrition, immune system function, metabolism, and gut protection from pathogens (https://www.kamut.com/en/health/research).
While it is proven that physical activities contribute significantly to the prevention of cardiovascular disease, diabetes, and other chronic diseases, physical training and nutrition have an even greater impact on athletes who rely on being at optimum health to compete at the highest levels. For basketball players, in playing such a high-intensity sport, following a highly nutritious diet plays a key role in their performance. Athletes can try incorporating KAMUT® wheat into a daily diet, which will help fuel their bodies before any intense activity. According to the National Sporting Goods Association (NSGA), 26 million Americans play basketball and it's one of the three most popular sports in the USA.
KAMUT® Brand khorasan wheat, has long been recognized as a beneficial food for athletes. More so than many other grains, KAMUT® wheat is rich in protein and minerals including selenium and zinc and also contains a diverse profile of polyphenols. These nutrients are not only powerful antioxidants, but they are effective in counteracting oxidative stress that cause harm to the body and impair recovery, making them favorable to endurance athletes like cyclists and triathletes.
About KAMUT® Brand Khorasan Wheat
From 36 kernels and legends of discovery in Egyptian tombs, today KAMUT® brand khorasan wheat, an ancient grain, guaranteed under the KAMUT® brand, to never be hybridized or genetically modified, always organically grown, prized for its nutrition, ease of digestibility, sweet nutty-buttery taste and firm texture, can be found throughout the world in products including breads, pasta, pizza, cereals, snacks, pastries, crackers, beer, green foods, and cereal drinks.
Media please contact Giselle Chollett: giselle@adinnyc.com, 917.386.7116.