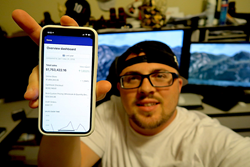 If you stay focused, keep up with the trends and stay ahead you'll be able to accomplish much more when targeting your key audience
MONROE TOWNSHIP, N.J. (PRWEB) May 12, 2020
It is hard to keep up with trends especially in Ecommerce. Marketing and Interests change quickly, and as soon as the new gadget is out, the next one is on its way. The internet and it's ever changing ways may seem like a hard place to create a business, but Steven Ridzyowski has made a name for himself by doing just that.
"I've been into the eCommerce/digital media buying space for 13 years. I have extensive experience in managing 7-8 figure digital advertising campaigns, and have spent over $30 million via various advertising platforms over the years. My propensities range from full-service management of Facebook, Google, Yahoo/Native campaigns to advanced level PPC, keyword strategies, and an aggressive affiliate marketing background."
"I run my independent eCommerce/online retail consultation practice, Ecommerce Marketing Agency where I consult and service individuals/companies on methods, and strategies to diversify what they do in a traditional sector to the online ecosystem. Ecommerce Marketing Agency loves providing our clients with trending products throughout the year and managing their online stores. I've personally managed multiple 6-7 Figure Shopify Stores over the past 3 years," says Steven.
Since 2007, Steven Ridzyowski has never stopped working in the online advertising world. He has continuously adapted with the time to make sure that he is ahead of the curve and a reliable source to help others get ahead in online advertising. When he noticed the trends shifting to Ecommerce, he quickly adapted to meet the new technology.
"During this time I noticed the trends start to change and Ecommerce began to take a turn upwards. I decided to dabble in Ecommerce and learn Dropshipping, Ebay automation, amazon automation and Shopify. While my friend switched focus on multiple things including crypto, real estate and other investing opportunities. I started with Ebay and Dropshipping again self teaching myself and learning from my mistakes quickly and adapting to trending products. From late 2016 - to present I've been fully focused on Ecommerce as well as my clients building multiple 6-7 figure stores," explains Steven Ridzyowski.
Even in the Ecommerce Space, Steven has challenged himself to do more. He doesn't rely on traditional platforms like the usual social media methods to make sure his clients are happy. Instead, he goes above and beyond to ensure that he is on the cutting edge and delivering the best Ecommerce services possible across other native and digital media platforms.
"Ecommerce Marketing Agency Prides ourselves on being able to conquer multiple advertising platforms. Our Agency doesn't just rely on typical social media marketing campaigns like most agencies do. Our in-house media buying team specializes across multiple advertising platforms from Facebook, Google shopping, Native and Display ads. Aside from our normal agency duties, this year Ecommerce Marketing Agency started to offer a new program to our agency. Our Team Is providing a turnkey Ecom store solution. With Our Turnkey Ecom Stores program, Ecommerce Marketing Agency And Turnkey Ecom Stores is now able to provide clients with everything they would need from start to finish for their Ecommerce journey," says Steven.
Though Covid-19 has affected Steve's business like many other businesses, Steven is still trying to remain flexible and adaptable. As many storefronts shift to online platforms, Steve's role has become more crucial than ever before. He knows that this will be his upcoming challenge: to ensure that his business is ready to assist in creating and advertising more online businesses than ever before.
"Everything is so volatile and unpredictable. People are still afraid to invest in themselves and or businesses and opportunities, which is understandable during these unpredictable times. More people are switching focus to online."
"Schooling, Ordering, Delivery, Everything is switching to online. Big Time Inventory will be all held in one place versus multiple stores and the future will be having everything shipped direct to consumer. That's the big thing now everyone need to focus on: trends, so everyone can adapt and be able to market to the correct demographics. That's how you'll come across any obstacle and conquer it; just stay focused with the right mindset," Steven advises.
Steven continues to look to the future, and hopes to continue to develop his Turnkey Ecom Stores further to help continue his journey in helping others pursue their own Ecommerce dreams.
To find more information about Ecommerce Marketing Agency, click here.