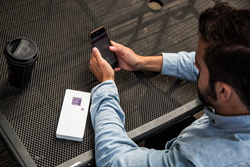 "We designed Fonebud W to make international trips easier and more cost-effective. We focused on small data packs that can be reused later on the next trips. Our success has proven that people agree that it's important to stay in touch, always."
CHARLOTTE, N.C. (PRWEB) September 29, 2018
The founders of Fonebud W want people who travel internationally to stay connected to friends, family and business, quickly and easily. Fonebud W launched an Indiegogo campaign to bring people a travel Wi-Fi hotspot with 4G/3G Wi-Fi data roaming and 10,000 mAh of wireless charging. With half of the crowdfunding campaign timeline remaining, Fonebud W already exceeded its funding goal.
The main aspect of Fonebud W is its compatibility with any electronic device that has Wi-Fi connectivity. Up to eight devices can be connected to Fonebud W at once, which allows coworkers, families and friends to use Wi-Fi simultaneously. Fonebud W users can connect on the go for up to 35 hours of active data roaming on a single charge. Because the hotspot also functions as a wireless or USB charging station, users can easily charge while they roam. Unlike similar available products, Fonebud W has no monthly fee — users pay as they go and keep the extra data for later. Users choose from individual country packs with 90 or 365 days validity.
"We are very happy with the enthusiasm Fonebud W received and can't wait to show what we have in store for the rest of the campaign," said Sunny Koay, CEO of Fonebud W. "We designed Fonebud W to make international trips easier and more cost-effective. We focused on small data packs that can be reused later on the next trips. Our success has proven that people agree that it's important to stay in touch, always."
With eSIM technology, Fonebud W lets users access the internet like a local, wherever they go and as many times as they want. Fonebud W users can instantly purchase data packages and view all of their data plans in one place — even those purchased for use in another country. Users can plan their trip, travel between countries and continue using their previously purchased data plan. Because it is easy to grip, store and conceal, Fonebud W is convenient to use in 90 countries outside of the U.S. with planned expansion into more countries in the future. Fonebud W also use full roaming in China, allowing travelers to browse Facebook, Google, Instagram, WhatsApp and more, without using a VPN client.
Current supporters of Fonebud W receive an extra 4GB South East Asia data (17 countries/8 days) on top of the 2GB international data (all countries/365 days) already included as starter kit. With over two weeks left in the campaign to continue collecting pre-orders, Fonebud W is already in production and well on its way to getting in the hands of consumers. It is guaranteed to ship by its projected November 2018 ship date. Visit the campaign at pr.go2.fund/fonebudw.
About Fonebud IoT Berhad
Fonebud IoT Berhad designs, produces and distributes connected products that help users achieve more every day. The company believes in efficient, smart and authentic products. With a goal of consistently launching new tools to make consumers lives easier, Fonebud IoT products are created to improve consumer's quality of life and simplify the user experience. Fonebud IoT designs products for the office, home and outdoors. To learn more, visit http://www.fonebud.com.