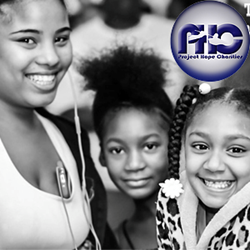 Project Hope Charities assists more than 9,000 people monthly in this area, and our agency wants to help unite our community by supporting their efforts and lending a helping hand to those in need
Queens Village, NY (PRWEB) April 19, 2017
The Boyd Agency, a Queens firm that offers asset protection services and financial planning assistance to families and business owners in the greater New York metropolitan area, is teaming up with Project Hope Charities for a community wide awareness and fundraising drive to benefit local underprivileged families.
Project Hope Charities provides direct assistance to local families through a broad range of programs that work to alleviate hunger and empower young people from families facing financial hardship. Additional services provided by the organization include community outreach and awareness programs as well as services for victims of domestic violence.
"Project Hope Charities assists more than 9,000 people monthly in this area, and our agency wants to help unite our community by supporting their efforts and lending a helping hand to those in need," says Garland Boyd, founder and executive director of the Boyd Agency.
To gather local support for the Project Hope Charities event, Boyd and his team are reaching out to families, community leaders, associates, and other charitable groups in the region over social media and email channels. Additional plans to promote the event will include a full length feature article on Project Hope Charities scheduled for publication in "Our Hometown," a monthly online magazine produced by the Boyd Agency: http://boydagencyinc.com/magazines/.
The Project Hope Charities initiative marks the first event hosted by the Boyd Agency since joining the "Agents of Change" charity support network earlier this year. Future charity events for a variety of other nonprofit organizations in the New York area are already being planned by Boyd and his team.
Readers that would like more information about the Project Hope Charities community initiative are personally invited by the Boyd Agency team to click the following link and take action in support of the event: http://boydagencyinc.com/causes/beacon-hope-community/. Future charity initiatives launched by the Boyd Agency team will be detailed on the firm's permanent Community Causes page: http://boydagencyinc.com/community/.
About the Boyd Agency
As a Personal Finance Representative in Queens Village, agency owner Garland Boyd knows many local families. His knowledge and understanding of the people in his community ensures that clients of the Boyd Agency are provided with an outstanding level of service. Garland and his team look forward to helping families protect the things that are most important – family, home, car and more. The Boyd Agency also offers clients a preparation strategy for achieving their financial goals. To contact an expert at the Boyd Agency, visit http://boydagencyinc.com/ or call (718) 264-2900.