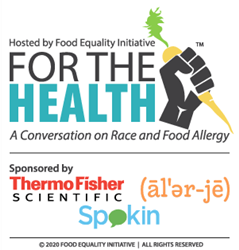 "The For the Health™ webinar is to start an open dialogue on racial and economic disparities in food allergy. It is my hope that words will move to action and we will see real lasting change." Emily Brown, CEO of Food Equality Initiative
KANSAS CITY, Mo. (PRWEB) June 19, 2020
Food Equality Initiative (FEI), a nonprofit with the mission to improve health and end hunger in individuals diagnosed with food allergies and celiac disease announced the first of the "For the Health" webinar series, A Conversation on Race & Food Allergy.
This webinar is scheduled for Friday, June 19, 2020, from 11:00, am EST - 12:00 pm EST.
Intentionally planned on Juneteeth, the national holiday commemorating the end of slavery in the U.S. this panel will bring together health experts to discuss actionable ways that we can end systematic health disparities in food allergy.
The webinar was inspired by this Open Letter to the Allergy Community written by Emily Brown, CEO of Food Equality Initiative, after the murder of George Floyd that has focused the nation's attention on the public health crisis of police brutality, which targets black men and women.
Emily Brown says this, "The For the Health™ webinar is to start an open dialogue on racial and economic disparities in food allergy. It is my hope that words will move to action and we will see real lasting change."
The goal of this webinar, For The Health™ is to reduce racial disparities in food allergy. Topics will include:

The impacts of Social Determinants of Health (SDoH) as it relates to food allergy.
Community resources and education about racial disparities in food allergy.
Actionable ways that allies and industry can support organizations committed to a more inclusive environment.
Research shows that Black children are 7% more likely to have food allergies compared to white children, are diagnosed less frequently, receive less medical care, and are more likely to experience anaphylaxis.
The panelist include:

Emily Brown, Founder, and CEO of Food Equality Initiative
Denise Woodard, Founder, and CEO of Partake Food s
Thomas Silvera, President of the Elijah-Alavi Foundation
Dina Silvera, Mental health advocate, and the executive creative director at G.A.M.E.
Lakiea Wright-Bello, MD MAT MPH a Board-certified Allergist and the US Medical Director ImmunoDiagnostics-Clinical Affairs at Thermo Fisher Scientific
Javier Evelyn Founder and CEO of Alerje, recognized in Crain's 40 Under 40, and founding team member at MedTec Color
The panel will be moderated by:

Karen Palmer of Karen Palmer Coaching, Certified Professional Coach, school operations consultant and an advocate for food allergy families.
Linsey Davis Two-time Emmy Award winning correspondent for ABC News and successful children's book author.
This For The Health™ webinar is sponsored by Thermo Fisher Scientific, Alerje, and Spokin.
To register for this webinar please visit, For The Health™