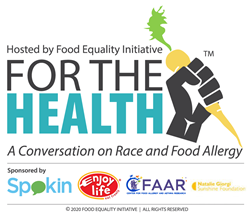 "For the Health™ is a webinar series creating a dialogue on racial and economic disparities in food allergy. It is my hope that words will move to action and we will see real lasting change." Emily Brown, CEO
KANSAS CITY, Mo. (PRWEB) July 16, 2020
Food Equality Network (FEI), a nonprofit with the mission to improve health and end hunger in individuals diagnosed with food allergies and celiac disease announced the second of it's "For the Health" webinar series, A Conversation on Race & Food Allergy.
The webinar will be moderated by Karen Palmer of Karen Palmer Coaching. She is a Certified Professional Coach, school operations consultant, and an advocate for food allergy families.
The expert panelists include industry leaders Susie Hultquist of Spokin Inc., Dan Waters of Enjoy Life Foods, Louis & Joanne Giorgi of Natalie Giorgi Sunshine Foundation & Dr. Ruchi Gupta of Northwestern Medicine Center for Food Allergy & Asthma Research (CFAAR).
This free webinar is FRIDAY, JULY 17, 2020 at 11:00 am EST/10:00am CST. Register to attend at "The For the Health™
The "The For the Health™ webinar series was inspired by this Open Letter to the Food Allergy Community written by Emily Brown, CEO of Food Equality Initative, after the murder of George Floyd that has focused the nation's attention on the public health crisis of police brutality, which targets black men and women.
Emily Brown says this, "The For the Health™ webinar series is creating a dialogue on racial and economic disparities in food allergy. It is my hope that words will move to action and we will see real lasting change."
Research shows that Black children are 7% more likely to have food allergies compared to white children, are diagnosed less frequently, receive less medical care, and are more likely to experience anaphylaxis.
This For The Health™ webinar is sponsored by Enjoy Life Foods, Natalie Giorgi Sunshine Foundation, the Northwestern University Center For Allergy and Asthma Research and Spokin.