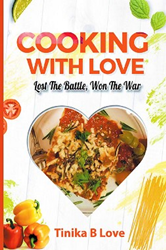 "Sure to inspire, this stunning coffee table book rates not only as a great cookbook, but also as an inspirational guide for others who need to realize that there is a light at the end of the tunnel." - Robert Fletcher, CEO of Strategic Book Publishing and Rights Agency
DANBURY, Conn. (PRWEB) July 02, 2019
Why wallow in misery, when life's lemons can be turned into lemonade?
Tinika B Love, author and entrepreneur, lives up to her last name, choosing to share her journeys around the world that are filled with her passion for family and food in her coffee table memoir "Cooking with Love: Lost the Battle, Won the War."
Tinika has led a tough life. But she has overcome every obstacle, all with the simple philosophy that food makes everything better. Her unique recipes tie into her times of tragedy and learning. Each chapter will resonate with readers, who will be able to connect fond memories to places, smells, and taste.
The book's conversation starters and true stories show that a life's journey can be rocky, but good food and great company can also create a survivor. This book represents the unique life Tinika has led, while giving cooks at all levels new ingredients to try on well-known dishes. Tinika wants friends to gather around, get cooking, share wine, and explore the short story of an overcomer.
Watch the video book trailer at: https://youtu.be/fbRqNE6Uu2w
About the Author: Tinika B Love grew up in Spanish Harlem and currently lives in Danbury, Connecticut, where she is a life coach. Her story is one of an overcomer who faced challenges, discovered self-love, and is no longer a victim. Instead, she became a survivor. This is her first book.
"Sure to inspire, this stunning coffee table book rates not only as a great cookbook, but also as an inspirational guide for others who need to realize that there is a light at the end of the tunnel. Three cheers for Tinika," said Robert Fletcher, CEO of Strategic Book Publishing and Rights Agency.
Cooking with Love: Lost the Battle, Won the War (ISBN: 978-1-949483-66-6) is now available for $19.50 and can be ordered through the publisher's website:
http://www.sbprabooks.com/TinikaBLove or at http://www.amazon.com or http://www.barnesandnoble.com.
WHOLESALERS: This book is distributed by Ingram Books and other wholesale distributors. Contact your representative with the ISBN for purchase. Wholesale purchase for retailers, universities, libraries, and other organizations is also available through the publisher; please email bookorder@sbpra.net.