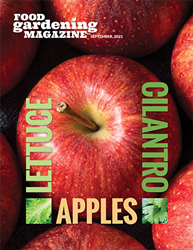 I grew up thinking September was a time to wind down from summer gardening. But I've actually learned that there are vegetables that thrive in cooler temperatures.
BOSTON (PRWEB) September 01, 2021
Food Gardening Network, publisher of Food Gardening Magazine, has released their September 2021 issue, featuring their list of five vegetables that you can still plant in time to harvest before winter sets in.
In the article and accompanying video for 5 Vegetables to Plant in September, Senior Editor Amanda MacArthur shares the vegetables she's planting right now, even as summer comes to a close. "I grew up thinking September was a time to wind down from summer gardening. But I've actually learned that there are vegetables that thrive in cooler temperatures."
MacArthur points out that the beginning of autumn means the beginning of a new planting season. Root vegetables and salad greens enjoy the shorter, cooler days of late summer and early fall, and several of them grow quickly.
The five featured vegetables MacArthur is planting include:
1. Turnips – The greens take about four weeks and the roots are ready in about eight weeks. They work best when soil has cooled to the 40 degree range and have been known to continue to grow even after the first frost.
2. Radishes – Want a fast growing fall crop? Look no further than the radish. These will be ready to harvest in three weeks.
3. Lettuce – An added bonus with planting lettuce in September is that certain varieties are hardy enough to return after winter for an early spring crop. It's best to plant lettuce six-to-eight weeks before the first frost in your area.
4. Kale – Besides being a trendy superfood, Kale is a hardy vegetable that can withstand cooler weather and is even known to survive temperatures as low as ten degrees!
5. Garlic– Want to get a head start on next season's crops? Plant garlic in late September. Your garlic will form strong roots over the winter and be ready to take off after the first thaw, for a speedy spring crop.
The September issue of Food Gardening Magazine also includes articles and videos like How to Make DIY Concrete Stepping Stones for a Garden, which guides gardeners through each step of creating their own functional and decorative garden stepping stones. This kid-friendly project is a fun way to add a little personality to your garden.
This is also the perfect time to begin thinking about those fall fruits and vegetables. Readers will find articles highlighting winter squash and apples. In How to Train Squash to Grow Vertically, MacArthur shares a great way to grow winter squash if you don't have a lot of space. And she also shares a delightful recipe perfect for using up your excess apples in the Winter Salad with Apple Cider Vinaigrette Dressing video post.
In all, the September issue of Food Gardening Magazine offers readers four feature articles, four how-to videos,), and three Collection Close-Ups spotlighting Apples, Cilantro, and Lettuce. These collections offer comprehensive, in-depth information about a single fruit, herb, or vegetable, from starting seeds to dealing with pests and diseases and from nutrition facts to delicious recipes.
View the September 2021 issue of Food Gardening Magazine now.
About Food Gardening Network: Food Gardening Network was founded by home food gardeners and for home food gardeners—the mission is to serve gardeners with tips, tools, advice, and recipes for growing and enjoying good food at home. During the Covid-19 pandemic that began in 2020, it became apparent that home food gardening would grow beyond a hobby for many home gardeners. Food Gardening Network launched in January of 2021 as an all-encompassing resource for gardeners of all skill levels, with in-depth articles on planning, planting, maintaining, and harvesting home garden crops. Food Gardening Network also includes easy-to-prepare recipes so home gardeners can enjoy the fruits of their labors in delicious, creative ways.
Contact: To request complimentary press access to Food Gardening Network, or to speak with a member of our team, please contact Christy Page at Christy@Mequoda.com or (617) 217-2559. Follow us on Instagram, Twitter and Pinterest on @FoodGardeningNW and on Facebook @FoodGardeningNetwork