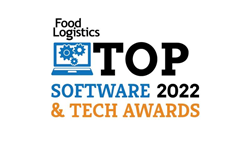 "Proper execution of the cold food supply chain requires precise processes and meticulous attention to detail," shares Made4net CEO, Duff Davidson. "We're honored to be included in the list of technology providers that enable such important work to be completed safely and effectively."
TEANECK, N.J. (PRWEB) December 14, 2022
Made4net, a global provider of a cloud-based Warehouse Management Systems (WMS) & end-to-end supply chain execution software, today announced that they have been named a winner of Food Logistics' 2022 Top Software & Technology Providers award. The award honors software and technology providers that ensure a safe, efficient, and reliable global cold food and beverage supply chain.
This year's winners are investing in and delivering emerging technologies from mobile technology and Internet of Things (IoT) to food safety management, warehouse management, routing and scheduling, yard management, and more. Today's software and technology offerings provide flexibility, efficiency, safety, visibility and more, and offer end-to-end management, from farm to fork, and beyond.
A large concentration of Made4net customers are manufacturers, wholesale distributors and retailers of food products. They use the company's WMS, WarehouseExpert, which is recognized for food industry WMS expertise, to gain functionality critical to the industry including, expiration date management, real-time traceability, compliance labeling and more.
According to Marina Mayer, Editor-in-Chief of Food Logistics and Supply & Demand Chain Executive, "The supply chain management software segment is projected to reach $18.04 billion this year, according to Statista. This includes all of the emerging software solutions such as barcode systems, FinTech, inventory control, mobile technology, robotics, wireless technology and more. These providers and their implemented solutions directly address the challenges in the cold food supply chain, whether that be port closures, driver safety, or just simply automating a process."
"Proper execution of the cold food supply chain requires precise processes and meticulous attention to detail," shares Made4net CEO, Duff Davidson. "We're honored to be included in the list of technology providers that enable such important work to be completed safely and effectively."
Recipients of this year's award are profiled in Food Logistics' Nov/Dec 2022 print issue. Go to Food Logistics to view the full list of Top Software & Technology Providers.
About Made4net
Made4net is a leading global provider of best-in-class, cloud-based supply chain execution and warehouse management solutions for organizations of all sizes to improve the speed and efficiency of their supply chain. The company's end-to-end SCExpert™ platform offers a robust WMS solution that enables real-time inventory visibility, labor management, and equipment productivity with performance analytics that drive faster, more accurate order fulfillment and improved supply chain efficiency. In addition to the best-of-breed WMS, the platform offers integrated yard management, dynamic route management, proof of delivery and warehouse automation solutions that deliver a true supply chain convergence. Made4net is proud to be recognized by analysts and industry experts as a global leader in warehouse management software, including the Gartner Magic Quadrant for Warehouse Management Systems.
For more information, visit http://www.made4net.com.
About Food Logistics
Food Logistics reaches more than 26,000 supply chain executives in the global food and beverage industries, including executives in the food sector (growers, producers, manufacturers, wholesalers and grocers) and the logistics section (transportation, warehousing, distribution, software and technology) who share a mutual interest in the operations and business aspects of the global cold food supply chain. Food Logistics and sister publication Supply & Demand Chain Executive are also home to L.I.N.K. and L.I.N.K. Educate podcast channels, L.I.N.K. Live, SCN Summit, SupplyChainLearningCenter.com and more.
Go to http://www.FoodLogistics.com to learn more.