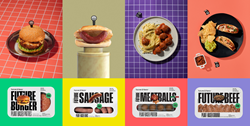 "In order to change the way the world eats, we will continue bringing consumers into the category by delivering on quality, variety and flavor with our products, and bringing joy and deliciousness to the experience of plant-based eating," Marcos Leta, Founder of Future Farm.
LOS ANGELES (PRWEB) November 03, 2021
Future Farm™ (http://www.futurefarm.io), Latin America's first and leading Food Tech brand to develop and produce plant-based meat, has secured $58MM in a Series C investment, valuing the company at $400MM.
This fundraise, led by BTG Pactual and followed by Rage Capital, marks the company's third round of funding, bringing its total investment amount to $89MM, and will be used to further the international expansion and innovation of its plant-based line of products, on the heels of its launch into the U.S. market, this past summer.
The two prior rounds of funding have helped accelerate Future Farm's development and innovation of new products, and fueled its expansion overseas — from its origin country of Brazil — into 10,000 points of sale across the globe.
A global leader in plant-based technology, gaining quick traction in the $4.2B worldwide market of plant-based meat in just over two years, Future Farm's upcoming plans include progressing its revolutionary True Texture Technology™, bringing each plant-based product closer in look, texture and flavor to its animal-origin counterparts.
On top of advancements in product technology, the brand will also use the funding to progress towards its goal of 100% sustainable and plant-based packaging — composed of sugar cane — decreasing the amount of CO2 released into the planet.
"We're incredibly proud of this investment and those behind it, not only to validate the immense opportunity that exists within the category, but also to mark a new chapter for Future Farm, as we work towards innovating more plant-based offerings to create a portfolio inclusive of meat, seafood, poultry and dairy," said Marcos Leta, Founder of Future Farm. "In order to change the way the world eats, by making slaughterhouses and animal-protein products obsolete, we will continue bringing consumers into the category with quality, variety and flavor, and delivering joy and deliciousness to the experience of plant-based eating."
The U.S. arm of the brand launched earlier this year, utilizing the experience and expertise of Future Farm U.S. CEO Alexandre Ruberti, former U.S. President of Red Bull Distribution Company (RBDC) and Executive Vice President of Sales for Red Bull North America. Together with Leta and his co-founding partner Alfredo Strechinsky, Ruberti is building a best-in-class global organization while leveraging his demonstrated knowledge, influence and innovative contributions to the industry.
After launching with Future Burger, Future Sausage, Future Beef and Future Meatballs, and its upcoming Future Tuna and Future Chick'n launch in the U.S., Future Farm plans to expand into the plant-based drinks and dairy segments, with a focus on European and American markets.
Currently, Future Farm is available in the U.S. through GTFO, It's Vegan, Vejii, Hungry Harvest and other Food Service Direct Platforms. Over the next year, Future Farm U.S. will be filtrating into grocery retail and food service channels, as well as offer its products online through its website and other eCommerce platforms.
As a global brand, Future Farm set out to 'hack' the meat industry and 'make meat obsolete' by creating products as close to animal protein as possible, to encourage people to make simple switches to sustainable plant-based foods; saving the planet — and now the ocean — one bite at a time.
Future Farm remains steadfast in demanding high environmental standards from its suppliers, fighting for biodiversity and against the destruction of the rainforest, with each respectively required to state that its produce is both GMO-free and deforestation-free.
For more information visit futurefarm.io and follow on Instagram, @futurefarm.
About Future Farm™
Future Farm™ is on a mission to change the way the world eats.
Launched in May 2019, Future Farm™ is the first and leading Latin American food company specializing in plant-based, animal-free meat. Committed to using only real, whole-food ingredients grown from the earth, Future Farm delivers cutting-edge innovation, premium-tasting and cost-competitive options, with a consumer-forward approach to product development and marketing.
In summer 2021, Future Farm broke ground on U.S. soil with Future Burger, as its hero product, along with three other product innovations: Future Beef, Future Meatballs and Future Sausage.
Future Farm's products are made with 100% GMO-free soy, peas, chickpeas and other plant-based ingredients and competitively priced at an SRP of $5.29, in an effort to democratize the plant-based meat options for consumers. The U.S. market can expect the brand's continued innovations to span multiple meat, poultry, fish and dairy offerings.
For more information and details on Future Farm's U.S. launch, visit http://www.futurefarm.io.
1. 2020 State of the Industry Report; Good Food Institute/SPINS