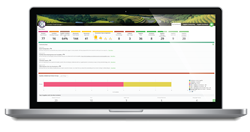 "FoodLogiQ's quality management system will help us operate our supply chain more efficiently and effectively to deliver safe and high-quality products." Chris Fosse, Vice President, Quality at Conagra Brands
DURHAM, N.C. (PRWEB) December 02, 2020
FoodLogiQ is pleased to announce that Conagra Brands, Inc. (NYSE: CAG), one of North America's leading branded food companies, has selected FoodLogiQ Connect as their quality management solution for expanding global supply chain transparency, digitized audit and document management, as well as streamlined recall management.
"At Conagra, we are continuously looking for the most innovative solutions to modernize food safety practices throughout our operations," said Chris Fosse, Vice President, Quality at Conagra Brands. "FoodLogiQ's quality management system will help us operate our supply chain more efficiently and effectively to deliver safe and high-quality products."
Conagra will leverage FoodLogiQ Connect to enhance traceability by capturing and tracking supplier quality issues with FoodLogiQ's mobile app to document any issues as products are received. Leveraging this real-time action, users can also issue corrective actions directly in the platform, as well as launch and track product withdrawals and recalls in real time.
With FoodLogiQ Connect, leading consumer packaged goods companies are working to engage and strengthen relationships with their suppliers, and to manage the necessary compliance requirements to advance food safety and quality assurance programs. By digitizing this process, brands are increasing supplier compliance with streamlined documentation and automated workflows to assemble food safety plans, conduct supplier and facility audits, implement corrective actions, support supplier verification, and centralize required recordkeeping.
The benefits of a centralized, digitized platform also extend to the brands' supply chain partners. With FoodLogiQ Connect, customers can funnel supplier requirements directly through the platform to populate a dynamic To-Do List for suppliers containing compliance requirements.
"We are thrilled to welcome Conagra to the growing list of food industry innovators who are embracing technology to raise transparency in the supply chain and better connect data to make faster, safer food safety decisions," said FoodLogiQ CEO Sean O'Leary.
About FoodLogiQ
FoodLogiQ® LLC is a leading SaaS provider of food safety compliance, traceability and supply chain transparency solutions. We help restaurant operators, food retailers and other food companies achieve end-to-end traceability while supporting safe and high quality food products across the supply chain. FoodLogiQ Connect features an online supplier community used by food companies to manage quality, safety, audit, regulatory compliance and traceability needs across their supply chains. To meet mounting regulatory requirements and consumer demands for transparency, food companies are leveraging FoodLogiQ Connect to validate supplier compliance with food safety and act with confidence in the event of food safety or quality issues. To request a demo, please visit http://www.foodlogiq.com/demo.
About Conagra Brands
Conagra Brands, Inc. (NYSE: CAG), headquartered in Chicago, is one of North America's leading branded food companies. Guided by an entrepreneurial spirit, Conagra Brands combines a rich heritage of making great food with a sharpened focus on innovation. The company's portfolio is evolving to satisfy people's changing food preferences. Conagra's iconic brands, such as Birds Eye®, Marie Callender's®, Banquet®, Healthy Choice®, Slim Jim®, Reddi-wip®, and Vlasic®, as well as emerging brands, including Angie's® BOOMCHICKAPOP®, Duke's®, Earth Balance®, Gardein®, and Frontera®, offer choices for every occasion. For more information, visit http://www.conagrabrands.com.