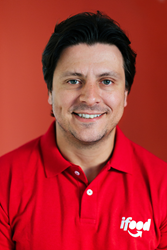 "AI is completely engrained in everything we do and it's unquestionably the engine behind iFood's phenomenal growth. So we, as an executive team, decided it was absolutely critical to be the first Brazilian company to educate all of its employees to be experts in AI," said Carlos Moyses, iFood CEO.
BRAZIL and LISBON, Portugal (PRWEB) November 04, 2019
Latin America's leading foodtech company, iFood, has announced it is expanding rapidly led by in-house AI advancements developed by its new AI Academy (an R&D lab), and 100 percent of its employees and everyone employed by the broader Movile Group (with a total workforce of more than 3,000) will be trained on AI during 2020.
At the end of September, iFood reached a major milestone of 21.5 million orders processed monthly in Brazil. Today, the company serves 822 cities in Brazil, a 24 percent increase from 662 cities in July earlier this year, and more than 116,200 restaurants are now registered with its iFood platform, powered by AI that's increasingly developed internally. Launched in April and led by Chief Data Scientist Sandor Caetano, who was formerly with Nubank, iFood's AI Academy now employs more than 100 data engineers, machine engineers, data analysts and data scientists.
iFood's rapid research and development of its own new AI solutions aim to improve logistical efficiency, enhance the safety and happiness of its partner deliverers, and bundle orders and balance deliverer supply with demand to reduce costs, in addition to introducing new capabilities to enhance its personalization engine and perfect the overall experience.
For example, iFood also just announced it's the first foodtech company in Brazil to work with Amazon to enable food delivery orders using voice AI during October. Just by saying the commands "Alexa, talk to iFood" or "Alexa, open iFood" in Portuguese, its customers can now get detailed information on food orders, track their status from how long it will take their meals to be prepared to obtain an accurate estimate for arrival times.
To help iFood reach its aggressive growth goals, Caetano and the broader executive team have assigned AI Academy experts to work directly with various business units to rapidly innovate on new approaches to solve the most pressing problems. "For example, we've spent a lot of time on tracking demand and setting dynamic pricing to ensure that we have enough deliverers on the road at all times and that they're being fairly compensated for their work during the busiest times of the day," said Caetano.
Caetano also noted that iFood has vastly improved its operations and delivery logistics by developing its own mapping system, using location-based AI and analyzing behavioral data: from how long it takes restaurants to prepare certain dishes to pinpoint exact pickup times for freshly cooked meals to highly detailed instructions for partner deliverers to cut down on wasted time and increase their revenues.
In a first for Latin America, iFood has partnered with São Paulo-based Synkar to put its autonomous robots on active duty to help with the initial or final stages of the delivery process beginning in January via its inaugural robotic delivery pilots in Brazil. The broader commercial operation of autonomous deliveries using the smart, self-driving Synkar robots are scheduled for the second half of 2020 and will rely on partnerships with shopping malls. The robots are being specially designed for food delivery to maximize ordering capacity, travel space and speed to maintain product quality and lift interaction. One common use will be a handoff from deliverer to robot for the last leg of delivery in large residential condominiums. The vehicles are 100 percent electric and environmentally friendly. They can carry up to 30kg, with an autonomy of twelve working hours.
Movile and iFood seek to impact the lives of one billion people using AI
The vision to impact more than one billion people's lives, including iFood's ability to deliver good food that's more affordable than customers can make on their own, are bold goals. To attain them, [Movile Group, an iFood investor and a global leader in mobile marketplaces, has committed to training 100 percent of its entire workforce on AI beginning in 2020.
"AI is completely engrained in everything we do and it's unquestionably the engine behind iFood's phenomenal growth. So we, as an executive team, decided it was absolutely critical to be the first Brazilian company to help educate all of its employees to be experts in AI," said Carlos Moyses, iFood CEO. "Everyone is either directly or indirectly affected by AI. If you're on the sales team, AI is helping direct you to the best prospects and what offers to make. If you're a member of the customer experience team, AI helps further augment the customer experience and provides added time in the workday to be even more strategic."
iFood is rolling out three levels of AI training. Everyone on staff begins with iFood's "AI Translators" coursework, which provides a basic introduction to all things AI - from what it can effectively deliver today, how to spot and deal with AI failures, and how to contribute to create new, better AI systems. Following their graduation, employees have the option to enroll in "AI for Experts" coursework. Finally, for all senior executives, iFood and Movile now offer advanced "AI for Growth" coursework that covers the most important AI developments and strategies for how AI can be put to use for maximum business impact and societal benefits.
For attendees of this week's Web Summit in Lisbon, Portugal, please join us for a fireside chat session featuring iFood CEO Carlos Moyses, Bolt CEO Markus Villig and CNET Editor-at-Large Tim Stevens: "Re-imagining the Global Transport Ecosystem" as part of the Auto/Tech track of the TalkRobot conference during summit on November 5th at 2:45pm.
About iFood
iFood, one of the world's most innovative foodtechs and a leader in online food delivery in Latin America, has 21.5 million monthly orders in Brazil. After eight years in the market, the company of Brazilian origin is also present in Mexico and Colombia. It works with partners with initiatives that bring together business intelligence and management solutions for more than 116,200 restaurants registered in 822 cities throughout Brazil. iFood has key investors such as Movile - the global leader in mobile marketplaces - and Just Eat - one of the largest online ordering companies in the world.
###
Media Contacts
United States:
Chris Knight
Director of PR in U.S. – based in San Francisco, Calif.
(415) 786-9226 c.
chris@divinogroup.net
Brazil:
Olivia Nercessian
Head of PR – based in São Paulo, SP
+55 11 95433-0000
olivia.nercessian@movile.com