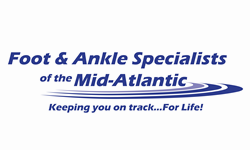 "EPAT has proven to be a very effective non-invasive option for treating all kinds of injuries -- especially heel pain. One of the great things about it is the ability to get patients back to activities without pain." - Dr. David Levine, DPM
FREDERICK, Md. (PRWEB) December 09, 2020
Dr. David Levine, DPM of Foot and Ankle Specialists of the Mid-Atlantic announced today the addition of Extracorporeal Pulse Activation Technology (EPAT), an evidence-based, extremely effective, non-surgical approach to treating their patients' acute and chronic musculoskeletal pain.
Foot & Ankle Specialists of the Mid-Atlantic specializes in foot and ankle care. Their three podiatrists combined have been serving Frederick, MD for 43 years.
EPAT is the most advanced, highly effective, non-invasive treatment method cleared by the FDA for foot and ankle treatment. This proprietary technology is based on a unique set of pressure waves that stimulate the metabolism, enhance blood circulation, and accelerate the healing process.
"EPAT has proven to be a very effective non-invasive option for treating all kinds of injuries -- especially heel pain. One of the great things about it is the ability to get patients back to activities without pain.," noted Dr. David Levine, DPM.
EPAT is clinically proven and ideal for treating acute or chronic musculoskeletal pain and/or pain that significantly impairs mobility or quality of life including pain located in the foot, heel, Achilles, tendon, neuromas, and trigger points. The procedure eliminates pain and restores mobility, thus improving the patient's quality of life.
Treatment sessions vary depending on the area being treated. Generally, 3-5 treatment sessions, 5-10 minutes each, at weekly intervals are required.
"EPAT has a proven success rate that is equal to or greater than that of traditional treatment methods, including surgery, and without the risks, complications, and lengthy recovery time," stated Gregory R. Mercure, President & CEO of CuraMedix, the leading U.S distributor of STORZ Medical EPAT devices.
Some patients report immediate pain relief after the first treatment, although it can take up to four weeks for pain relief to begin. Over 80% of patients treated report to be pain free and/or have significant pain reduction.
The benefits of EPAT include:
● Evidence-based success
● Faster, easier healing
● Non-invasive
● No anesthesia required
● No scarring
● No downtime
● Over 80% patient satisfaction
Patients can:
● Receive treatment in the office or even on site.
● Bear weight (i.e. walk) immediately
● Return to work/normal activities
● Resume strenuous activities after 4 weeks
With EPAT, patients are in a position to feel better faster and can often avoid surgery. To learn more about EPAT and whether you are a good candidate for this treatment, please contact Foot & Ankle Specialists of the Mid-Atlantic at footandankle-usa.com.
About Foot & Ankle Specialists of the Mid-Atlantic (FASMA)
All FASMA offices treat diabetic feet, wounds, heel/arch pain, tendonitis and more…..we treat patients of all ages. To make an appointment with FASMA and learn more about EPAT, call 301-696-0818 or visit footandankle-usa.com.
About CuraMedix:
CuraMedix is an emerging leader in medical technology focused on regenerative medicine and non-invasive healing solutions, including Extracorporeal Pulse Activation Technology (EPAT®), in the treatment of acute and chronic musculoskeletal pain. CuraMedix is the leading U.S. distributor of Storz Medical's EPAT devices. For more information on the technology or products, visit http://www.curamedix.com.