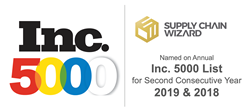 Being ranked in the Inc. 5000 list in 2 consecutive years confirms Supply Chain Wizard team's quality-obsessed commitment to help customers within the fast growing fields of product serialization, supply chain traceability and digital supply chain transformation
PRINCETON, N.J. (PRWEB) August 14, 2019
Inc. magazine's prestigious Inc. 5000 List today named Supply Chain Wizard (SCW) among the fastest growing private companies in America in 2019 with the rank of 3713. SCW has also made the List in 2018 with the rank of 557, becoming one of the youngest companies to qualify for this honor two years in a row. Inc. 5000 list is an exclusive ranking of the nation's fastest-growing private companies. The list represents the most successful companies within the American economy's most dynamic segment and this accomplishment puts Supply Chain Wizard in a rarefied group of companies such as Microsoft, Timberland, Vizio, Intuit, Chobani, Oracle, and Patagonia and many others that have been in the Inc. 5000 list over the years.
"Being ranked in the Inc. 5000 list in 2 consecutive years confirms Supply Chain Wizard team's quality-obsessed commitment to help customers within the fast growing fields of product serialization, supply chain traceability and digital supply chain transformation through its digital solutions, consulting and academy services," said Supply Chain Wizard founder and CEO, Evren Ozkaya and added "Our continuously upgraded digital solution platforms such as Digital Factory, Digital Projects and Digital Supply Chain will further contribute towards our relentless pursuit of successful digital transformations via use of big data and advanced analytics."
Earlier in 2019, Supply Chain Wizard was named a Cool Vendor by Gartner in Supply Chain Execution Technologies. Together with the Inc. 5000 recognition, Supply Chain Wizard has strengthened its industry leading position that innovates cutting-edge digital solutions through the use of advanced analytics. While the first five years of company journey has primarily focused on Pharmaceutical manufacturers & contract manufacturers, latest developments in its digital solutions, especially in Digital Factory platform, started attracting new customers from all sorts of other manufacturing industries, such as medical devices, oil & gas, food & beverage, consumer goods and mining.
About Supply Chain Wizard
Supply Chain Wizard is a management consulting, digital innovation and solutions firm, and a global leader specializing in serialization and traceability, supply chain strategy and operational transformation programs with global headquarters in Princeton, New Jersey and European headquarters in Berlin, Germany. Supply Chain Wizard partners with organizations in designing, developing and implementing digital solutions using state-of-the-art technologies such as Internet-of-Things (IoT), Artificial Intelligence (AI), Machine Learning (ML) and Blockchain through its Cloud Platform to enable end-to-end Digital Supply Chain Transformations. Serving some of the world's largest manufacturers, contract manufacturers and packagers in Pharmaceuticals, Consumer Goods and other manufacturing industries, Supply Chain Wizard is dedicated to adding sustainable value through data-driven decision making from Shop Floor to Executive Boardrooms. To learn more about how we enable digital supply chain transformation, visit http://www.supplychainwizard.com or email info@supplychainwizard.com.
About Inc. Media
Founded in 1979 and acquired in 2005 by Mansueto Ventures, Inc. is the only major brand dedicated exclusively to owners and managers of growing private companies, with the aim to deliver real solutions for today's innovative company builders. Inc. took home the National Magazine Award for General Excellence in both 2014 and 2012. The total monthly audience reach for the brand has been growing significantly, from 2,000,000 in 2010 to more than 18,000,000 today. For more information, visit http://www.inc.com.
The Inc. 5000 is a list of the fastest-growing private companies in the nation. Started in 1982, this prestigious list has become the hallmark of entrepreneurial success. The Inc. 5000 Conference & Awards Ceremony is an annual event that celebrates the remarkable achievements of these companies. The event also offers informative workshops, celebrated keynote speakers, and evening functions.
For more information on Inc. and the Inc. 5000 Conference, visit http://conference.inc.com/