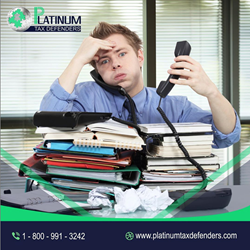 LOS ANGELES (PRWEB) May 14, 2019
Tax debt is one of the most common sources of financial stress for millions of Americans each year. Paying back tax debt is not an easy or doable situation for everyone. When taxes go left unpaid, penalties and interest begin to compile, which makes for an even more massive debt for the taxpayer. A MarketWatch article from February 2019 ("This Couple Used To Get A Tax Refund – Now They Owe 10,000") profiled a couple who typically saw a tax return each year but this year saw a $10,000 tax debt as a result of new tax law.
"I will never forget the moment, I thought, 'We look good,' and then we added in the next W-2 and my jaw hit the floor," said Andy Kraft of Portland, Ore., in the MarketWatch article." There was no way I wanted to believe that what I was looking at was accurate."
As changes to tax laws continue to be more confusing, Americans may find that working with a tax professional to not only prepare your taxes but resolve any tax issues that arise can be more financially beneficial in the long run.
For individuals who owe $10,000 or more to the IRS in taxes, Platinum Tax Defenders offer tax relief services that could get you out of debt, for good. Below are five ways that Platinum Tax Defenders are helping their clients clear their IRS tax debt of $10,000 or more.
Offer in Compromise
Platinum Tax Defenders have successfully negotiated Offer in Compromise deals with the IRS that are effective in lowering their clients' tax bills significantly. In a recent case, Platinum Tax Defenders got a client's more than $140,000 tax debt reduced to only $100 in a successful Offer in Compromise settlement deal. The Offer in Compromise program is for individuals for whom it would cause a severe financial burden to pay back their tax debt in full.
Installment Agreement
An Installment Agreement is a payment plan that's decided on between the taxpayer and the IRS. If your monthly tax payment is too high, and you're having trouble paying your tax debt bills each month, you could be eligible for an Installment Agreement. Having tax professionals like Platinum Tax Defenders on your side to negotiate with the IRS on your behalf enables you the opportunity to reach a monthly payment that you can afford to pay back your more than $10,000 tax debt.
Back Taxes Settlement
If you owe $10,000 to the IRS because your back taxes have gone unpaid, a professional tax expert can work with the IRS to negotiate your debt down to an amount you can afford. Platinum Tax Defenders has experience working with the IRS to negotiate down debts for people who owe $10,000 or more to the IRS. Working with a professional tax resolution company will ensure the assessment of your case to determine the right tax relief solution for you.
Penalty Abatement
It's possible that some of the more than $10,000 you owe to the IRS are penalty charges. You are also acquiring penalty charges the more prolonged your taxes go unpaid. While interest charged on your tax debt will always remain, there is an option to have penalties on your taxes removed. Professional tax experts can help you determine if you'd qualify for a penalty abatement and then apply for one with the IRS.
Currently not Collectible
Some American taxpayers won't be able to pay back even a $1 of their more than $10,000 tax debt because of their financial situation. If you're in an especially tough financial situation and are unable to pay back your tax debt, tax relief experts assist you in applying for Currently not Collectible status. This status halts any of the IRS' collections actions they've currently taken out against you and keeps them on hold until your financial situation improves.
If you owe $10,000 or more in taxes to the IRS, get help from tax relief experts who can steer you in the right direction toward debt relief and ultimately financial freedom. Platinum Tax Defenders has been successfully providing tax relief services to taxpayers across the United States since 2011. For more information from Platinum Tax Defenders, and to learn what tax resolution services you might be eligible for, call today for a free quote at 1-800-991-3242.