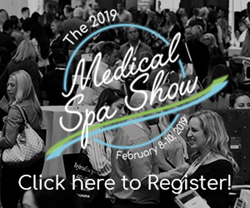 "[The Medical Spa Show is] A great event to network and exchange ideas," says Karen Tesi, RN, director of nurses at Kiss Me Med Spa in Clovis, California. "I enjoyed the fact that it was med spa specific. Ground-breaking!"
CHICAGO (PRWEB) August 27, 2018
The Medical Spa Show launched in February of 2018 as the premier conference and trade show in non-invasive medical aesthetics with education that focused specifically on the needs of medical spa and medical aesthetic practices. More than 450 professionals–including owners, physicians, practice managers, entrepreneurs and practitioners–representing more than 220 practices from across the country came together for the first event, and the second is shaping up to be even bigger and better.
"[The Medical Spa Show is] A great event to network and exchange ideas," says Karen Tesi, RN, director of nurses at Kiss Me Med Spa in Clovis, California. "I enjoyed the fact that it was med spa specific. Ground-breaking!"
The show is returning in 2019 with its full advisory board of industry leaders from across the country, ensuring that The Medical Spa Show upholds its reputation as a show by med spas, for med spas.
Returning advisory board members include:

Sheila Nazarian, MD: Founder, Nazarian Plastic Surgery and The Skin Spot in Beverly Hills, California
Terri Ross: Managing Partner and Director, Lasky Aesthetics in Beverly Hills California
Shawna Chrisman, MS, NP, BC: Owner, Destination Aesthetics in Sacramento California
Christina Imes: Founder/Operations Manager, Rejuvenate Med Spa in Oak Brook, Illinois
Brandon Robinson: Founder, Skin Body Soul Spa, in West Des Moines, Iowa
Matthew Billingsley: Owner, CoolSprings Laser, Aesthetic & Skincare Center in Franklin, Tennessee
AmSpa is also proud to announce that Justin Harper, MD, founder of Juvly Aesthetics, with multiple locations across the Northeast, Midwest, and Florida, is joining the Medical Spa Show Advisory Board for the 2019 show.
Together this group of medical aesthetic experts will continue to guide The Medical Spa Show in providing relevant, cutting-edge, and sought-after content to non-invasive practitioners throughout the United States. Over two-and-a-half days the conference will supply medical spa professionals with treatment trends, clinical instruction, business innovations, and legal foundations across multiple educational tracks.
"It's our first conference, and it's been really informative," says Kayla Tezcucano, Practice Manager of Family Medicine Associates in Mission, Texas, speaking about her experience at The Medical Spa Show 2018. "I like how all the information is good for med spas if you're just starting out, [or] wanting to expand, [or already] large; there's something for everyone all in one place, so there's a lot of knowledge and there are a lot of areas you can learn."
Early-bird registration for The Medical Spa Show 2019 ends August 31. See the preliminary agenda at http://www.medicalspashow.com/agenda.
About the American Med Spa Association: The American Med Spa Association (AmSpa) provides business and legal resources to medical spas and aesthetic practices across the country. AmSpa's events—including Medical Spa Boot Camps and The Medical Spa Show—provide business and legal best-practices to anyone entering the medical spa space or looking to improve their existing business. AmSpa members receive access to legal summaries of the laws governing medical spas in their state, access to an exclusive medical spa insurance program, and many other benefits. 312-981-0993, info@americanmedspa.org.