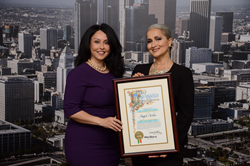 "With May being National Mental Health Awareness Month, we find it fitting to recognize the iconic representation of Latina strength and vulnerability that you portray while emphasizing techniques to reduce stress, improve communication, and harness the power of forgiveness, acceptance and love."
LOS ANGELES (PRWEB) May 20, 2021
In recognition of May as Mental Health Awareness Month, former Latina actress Angel Aviles was recognized by the City of Los Angeles for her popular self-help book, "Too Happy to Be Sad Girl," (self published; released on September 28, 2020; ISBN: 79-8650442738; $14.99. The title is a nod to the famous role Aviles portrayed in the 1993 cult film "Mi Vida Loca," directed and written by award-winning filmmaker Allison Anders. In a show of Latina #GirlPower, the certificate of recognition was presented by Los Angeles City Council President Nury Martinez (District 6) – the first woman and the only woman of color to hold this position in the City of Angels. Due to the pandemic, the presentation took place behind closed doors on May 12, 2021 in the media room at Los Angeles City Hall.
Aviles was surrounded by her family in receiving the certificate of recognition, which in part read: "With May being National Mental Health Awareness Month, we find it fitting to recognize the iconic representation of Latina strength and vulnerability that you portray while emphasizing techniques to reduce stress, improve communication, and harness the power of forgiveness, acceptance and love."
"Mi Vida Loca," centers around young Mexicanas and Latinas growing up in the Echo Park neighborhood of Los Angeles. It offers a slice life and the everyday struggles for a group of Latino youth -- including their friendships, romantic entanglements, and motherhood -- in a neighborhood ravaged by gang violence. For almost 30 years, the portrayal of "Sad Girl" by Aviles in this classic film has become an iconic representation of both strength and vulnerability in Chicano culture. "Mi Vida Loca" is currently available for viewing on YouTube.
"Too Happy to Be Sad Girl" is a 172-page guide to surviving sadness, ditching anxiety and learning to thrive. "I've poured my heart and soul into this book," said Aviles. "I think it comes at the perfect time when so many are dealing with mental health illness and coping issues during the pandemic. I've done the hard work myself to find my happy place, and I want this book to offer a sense of hope to anyone struggling."
In 2009, Aviles, an actress-turned-life coach and author, suffered from depression, anxiety, and panic attacks, which began her own journey of mental, physical, and spiritual wellness. Healed and happy, Aviles is proud to say that with years of therapy, she's no longer a "sad girl," finding herself, her sanity, and most importantly, her purpose.
"Too Happy to Be Sad Girl" offers readers some valuable techniques to reduce stress, improve communication, intensify focus and help individuals become more present. The book features heartfelt and sometimes comical anecdotes of understanding, offering readers the keys to the power of forgiveness, acceptance and love. Ultimately, "Too Happy To Be Sad Girl," is an invitation for individuals to stay present, and have an active role in the celebration of their own life.
In conjunction with "Too Happy to Be Sad Girl," Aviles is launching the Latina Happiness Project with the mission to address the mental health of one million women and increase their quality of life by using the same methodology that has led to her clients' transformations.
To hear an excerpt reading of the book by Aviles, visit her YouTube channel at https://www.youtube.com/watch?v=69ydXNVyqEI
For more information about the book, visit TooHappyToBeSadGirl.com. On Amazon, visit Angel Aviles at https://www.amazon.com/Angel-Aviles/e/B08LGG2VJZ
ABOUT ANGEL AVILES | former actress, life coach and author
In the early 90s, Angel Aviles boldly decided to pursue her dream of becoming an actress. The Bronx native moved from New York City to Hollywood, and landed roles on projects with up-and-coming directors Quentin Tarantino, Robert Rodriguez, Michael Patrick King, and many others. In 1993, she nabbed a starring role in the cult classic Mi Vida Loca, directed and written by award-winning filmmaker Allison Anders. Her big break in the role of Sad Girl cemented Aviles legacy in Chicano culture.
Following her acting career, Aviles became an entrepreneur, and started a business, specializing in marketing communications. Today, she is a transformational life coach, a motivational speaker, and an advocate for social justice, leading workshops and master classes, encouraging others to live their best lives.
Aviles facilitates dynamic workshops across the country, helping hundreds of people connect with their inner "chingona" – that is, badass. At her company, Angel Awakened, Aviles and her team provide safe spaces for people to learn and share experiences that foster creativity, promote unity and inspire hope.
When she's not at work, Aviles is a mom, a traveler, a volunteer, a tech evangelist, a food justice advocate, a mentor, a soulmate, a seeker, and, most importantly, a human being.
For more information about Angel Aviles, visit AngelAwakened.com. Check out her YouTube channel at https://www.youtube.com/channel/UCF-xwFA9TldzWfg7QtIHoGA
ON A SOCIAL NOTE:
With Angel Aviles:
Find me: Visit https://www.angelawakened.com
Follow me: @angelawakended on Twitter
Follow me: @2Happy2BsadGirl
Friend me: https://www.facebook.com/AngelAvilesMiVidaLoca
Friend me: https://www.linkedin.com/in/angelgaviles/
On YouTube: https://www.youtube.com/channel/UCF-xwFA9TldzWfg7QtIHoGA
To Happy to be Sad Girl:
Find me: https://toohappytobesadgirl.com
On Amazon: https://www.amazon.com/Angel-Aviles/e/B08LGG2VJZ
On Goodreads: https://www.goodreads.com/author/show/8142353.Angel_Aviles