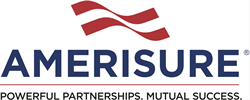 There has never been a time more imperative than now to educate those on disasters as businesses and citizens alike continue to navigate the COVID-19 pandemic.
NEW YORK (PRWEB) September 28, 2020
Mediaplanet is proud to announce the launch of Amerisure's social video campaign [link] as a part of its overall Disaster Preparedness Campaign, just in time for National Preparedness Month. This campaign will educate business owners on the importance of being properly covered in the face of disaster.
Each business is unique and has its own risks based on a multitude of factors. With Amerisure's risk management solutions, businesses will know that they are covered and have experts to turn to in the face of crisis. Click here to watch the social video campaign that is now streaming on social media platforms and impactingourfuture.com.
There has never been a time more imperative than now to educate those on disasters as businesses and citizens alike continue to navigate the COVID-19 pandemic. Mediaplanet's Disaster Preparedness campaign will educate readers on why being prepared and for businesses in particular, being insured, is essential while presenting resources available to protect themselves, their families and their businesses in case of a disaster. To read the entire Mediaplanet Disaster Preparedness Campaign, visit: https://www.impactingourfuture.com/disaster-prep-and-first-response/
Business exposures can present risks that interrupt operations, therefore, investing in commercial insurance coverage will keep companies safe and focused on their business. Amerisure's most popular business insurance products and programs include: Workers' Compensation; Amerisure's Contractors Advantage Program® (CAP) and Manufacturers Advantage Program® (MAP) – each specifically designed for the unique needs of the construction and manufacturing industries; Amerisure Command Coverage® – a commercial insurance product that can be packaged to include general liability and commercial property with mechanical breakdown coverage; Special Risk– a tailored approach for alternative risk solutions as well as additional product offerings. To learn more, visit amerisure.com.
About Amerisure
Amerisure Mutual Insurance Company is an insurance organization charged with creating exceptional value for our Partners For Success® agencies, employees and policyholders. As an "A" rated (Excellent) property and casualty insurance company licensed in all 50 states, we provide a robust line of insurance solutions to protect businesses focused in construction, manufacturing and healthcare through strategically located Core Service Centers. For more information, visit amerisure.com.
About Mediaplanet
Mediaplanet specializes in the creation of content marketing campaigns covering a variety of industries. We tell meaningful stories that educate our audience and position our clients as solution providers. Our unique ability to pair the right leaders with the right readers, through the right platforms, has made Mediaplanet a global content marketing powerhouse. Our award-winning stories have won the hearts of countless readers while serving as a valuable platform for brands and their missions. Just call us storytellers with a purpose. Please visit http://www.mediaplanet.com for more on who we are and what we do.
Amerisure Press Contact:
Ryan Craig
RCraig3@amerisure.com
Mediaplanet Press Contact:
Donna Nuriel
donna.nuriel@mediaplanet.com