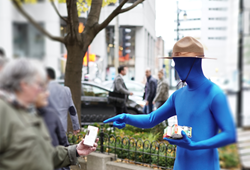 We are very proud to accept this award and look forward to a continued partnership with ENERGY STAR for many years to come.
MONTREAL, Quebec (PRWEB) April 07, 2020
As an ENERGY STAR partner since 2003, L'Image Home Products distributed over 5.8 million ENERGY STAR certified products including lamps and luminaires in 2019 alone. It has established new efficiency programs in the discount retailer market and continues to grow its programs, reaching 3,300 store locations across 35 states in 2019.
"L'Image's continuous commitment to energy efficiency is not something that we take lightly. With growing environmental concerns, it is essential for our business to contribute not only in making the world a better place with our products, but also to do this in a manner that is conscientious for the future. We are very proud to accept this award and look forward to a continued partnership with ENERGY STAR for many years to come." - CEO Jerry Zuchowicki of L'Image Home Products.
"I salute the 2020 ENERGY STAR award winners," said Anne Idsal, EPA Principal Deputy Assistant Administrator for Air and Radiation. "These leaders demonstrate how energy efficiency drives economic competitiveness in tandem with environmental protection."
The ENERGY STAR Partner of the Year Award recognizes ENERGY STAR partner businesses and organizations in good standing that demonstrate superior leadership, innovation, and commitment to environmental protection through energy efficiency and ENERGY STAR.
In 2019, L'Image Home Products also became a signatory of the Equal by 30 initiative part of the Clean Energy, Education and Empowerment Initiative (C3E), which works to advance the participation of women in the clean energy transition and close the gender gap.
About L'Image Home Products
Crafted in the heart of Montreal, L'Image Home Products is an innovative designer and developer of home products including batteries, light bulbs, indoor and outdoor lighting fixtures, and more. For over twenty years, the company has been working with major retailers throughout North America, Europe and Australia. With a focus on energy efficiency, L'Image has been a proud ENERGY STAR partner for 17 years, as well as a steward for responsible battery recycling. L'Image has received several awards for its efforts in product design and energy efficiency, including the 2018 ENERGY STAR award for Excellence in Promotion and the 2019 ENERGY STAR Partner of the Year award. For additional product and company information, visit http://www.limagehomeproducts.com.
About ENERGY STAR
ENERGY STAR® is the government-backed symbol for energy efficiency, providing simple, credible, and unbiased information that consumers and businesses rely on to make well-informed decisions. Thousands of industrial, commercial, utility, state, and local organizations—including more than 40 percent of the Fortune 500 companies—rely on their partnership with EPA to deliver cost-saving energy efficiency solutions. Since 1992, ENERGY STAR and its thousands of partners helped American families and businesses save more than 4 trillion kilowatt-hours of electricity and achieve over 3.5 billion metric tons of greenhouse gas reductions. In 2018 alone, ENERGY STAR and its partners helped Americans avoid nearly $35 billion in energy costs. More background information about ENERGY STAR can be found at: energystar.gov/about and energystar.gov/numbers.