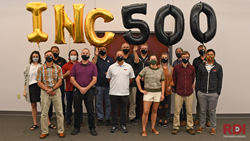 "The Inc. 5000 list is a huge validation for us," said Jeff Hay, CEO for RDI Technologies. "Hitting the top 500 once is a really big deal, but being able to be in the top 500 two years in a row shows how much we are continuing to grow and innovate."
KNOXVILLE, Tenn. (PRWEB) August 21, 2020
Inc. magazine revealed that RDI Technologies is No. 301 on its annual Inc. 5000 list, the most prestigious ranking of the nation's fastest-growing private companies. The list represents a unique look at the most successful companies within the American economy's most dynamic segment—its independent small businesses. Intuit, Zappos, Under Armour, Microsoft, Patagonia, and many other well-known names gained their first national exposure as honorees on the Inc. 5000.
"The Inc. 5000 list is a huge validation for us," said Jeff Hay, CEO of RDI Technologies. "Hitting the top 500 once is a really big deal, but being able to be in the top 500 two years in a row shows how much we are continuing to grow and innovate."
"None of this would have been possible without the team we have built at RDI," said Bob Wilson, President of RDI Technologies. "We have so many skilled people who put their heart into building something truly unique."
Not only have the companies on the 2020 Inc. 5000 been very competitive within their markets, but the list as a whole shows staggering growth compared with prior lists as well. The 2020 Inc. 5000 achieved an incredible three-year average growth of over 500 percent, and a median rate of 165 percent. The Inc. 5000's aggregate revenue was $209 billion in 2019, accounting for over 1 million jobs over the past three years.
Complete results of the Inc. 5000, including company profiles and an interactive database that can be sorted by industry, region, and other criteria, can be found at http://www.inc.com/inc5000. The top 500 companies are also being featured in the September issue of Inc., available on newsstands August 18.
"The companies on this year's Inc. 5000 come from nearly every realm of business," said Inc. editor-in-chief Scott Omelianuk. "From health and software to media and hospitality, the 2020 list proves that no matter the sector, incredible growth is based on the foundations of tenacity and opportunism."
About RDI Technologies
RDI Technologies is pioneering the camera as the sensor of the future because visualization is faster, safer, and makes the complex simpler. The company's proprietary technology platform powered by Motion Amplification® enables users to see and measure motion that is impossible to see with the human eye and could previously only be measured by contacting sensors. RDI's products combine the power of modern cameras with software to turn what used to be complex charts and graphs into easy-to-understand video data that enables users to quickly and safely solve their toughest problems and communicate the results.