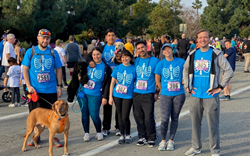 Healthpointe... looks forward to using 2020 to be even more involved in surrounding neighborhoods.
BREA, Calif. (PRWEB) March 03, 2020
On February 23, 2020, the Healthpointe team participated in the 29th annual Brea 8k, a hometown-style event to raise funds for the students of Brea Olinda High School. This occasion is focused on health, community, and most importantly, fun! In addition to sponsoring the event, Healthpointe gathered a team of some of the most dedicated employees and family to walk and run the (approximately) five mile course in the neighborhoods surrounding the Brea Mall.
Following the race, the team contributed to the Finest Finish Line closing ceremony, in which vendors set up food trucks, games, giveaways, and more. Healthpointe had a booth set up as well, and the team spent our post-race time engaging with the community. One of Healthpointe's esteemed chiropractors, Dr. Castro, used this opportunity to show off some specialized physical therapy massagers, and participants were encouraged to try it out under the guidance of a medical professional.
The Brea 8k is a child and pet-friendly affair, so of course, this organization jumped at the opportunity to bring out family members and dogs. Runners were asked about Healthpointe's matching blue shirts several times, and the dogs garnered a lot of attention. Other participants wore costumes and face paint, and some even went so far as to dress their dogs up as well.
Starting from the Brea Mall, the course of the race went straight down Birch Street, curving around Country Hills Elementary School and Country Hills Park. One of the last turns started near the Country Hills Estates Neighborhood and Pool, and the final stretch went up Birch Street back to the mall. Runners were greeted by sunny skies, spectators, and an all-around friendly atmosphere.
While many people walked the event, Healthpointe's very own Lydia Gil completed the race in under 51 minutes, finishing 1,023 in over 2,460 participants. Additionally, she finished 377th out of over 1,335 women, and 32nd in her age range. Gil maintained close to a ten minute mile, and the team was very pleased with her energy and effort in this race.
The race is organized and worked by unpaid parent and community volunteers. The money raised for this event will go to several programs at Brea Olinda High School, including the Global IT Academy, Instrumental Music and Color Guard Boosters, and the Vocal Music Boosters. For almost 30 years, the funds raised in this single event have gone straight to uplift Brea's only high school.
Healthpointe is thrilled to have participated in this community event for the first time, and looks forward to using 2020 to be even more involved in surrounding neighborhoods. To learn more about Healthpointe, visit the website! There's information about Healthpointe's services, locations, and health-related blogs, all in one place!
Thank you for your time and attention— stay healthy with Healthpointe!