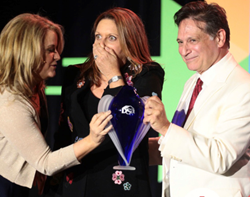 We're humbled and honored to be the first travel company to be recognized by the Direct Selling Association for the prestigious Partnership Award
PLANTATION, Fla. (PRWEB) June 19, 2019
Buy The Sea was honored by the U.S. Direct Selling Association (DSA) with the Partnership award for its exceptional performance in incentive travel sourcing and operations. The award was presented to the company's President, Shari Wallack, at the association's awards gala during the DSA's annual meeting in Austin, TX.
"We're humbled and honored to be the first travel company to be recognized by the Direct Selling Association for the prestigious Partnership Award," said Shari Wallack, Founder and President. "We continuously identify new destinations, ships and all-inclusive resorts that exceed our clients' expectations. Our consistent ability to provide unmatched complimentary operational support has led to our overwhelming success in this important market segment. Finally, our strategic cruise, resort and dmc partnerships put us in the best position to attain the most attractive rates and concessions, allowing our clients to stay within budget."
"DSA Award winners' programs demonstrate excellence, creativity and innovation in responding to the needs of the public, our consumers, our sales force, our members, and our communities. I am pleased to congratulate Buy The Sea on this top industry recognition for their achievements in incentive travel," stated Joseph N. Mariano, president and chief executive officer, DSA.
About The DSA
The Direct Selling Association (DSA) is the national trade association for companies that offer entrepreneurial opportunities to independent sellers to market and sell products and services, typically outside of a fixed retail establishment. In 2018, direct selling took place across the United States, generating $35.4 billion in retail sales. More than six million entrepreneurs in the U.S. are selling products or services through the direct selling channel, providing a personalized buying experience for more than 36.6 million active customers.
About BUY THE SEA
Buy The Sea was founded in 2002 with the sole mission of providing unique incentive travel solutions to its
client base. They have sourced and operated international cruise and resort programs for groups as large as
6,000 guests. Buy The Sea is a certified woman-owned business, which has been recognized multiple times
as Incentive Partner of the Year by Royal Caribbean Cruise Lines, Celebrity Cruises, Silversea Cruises and
several all-inclusive resort companies.