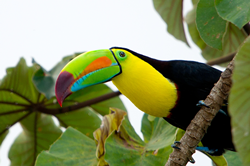 It's good healthy fun that gets you outdoors
SAN IGNACIO, Belize (PRWEB) February 25, 2020
Serious birders have been flocking to Belize for years, and with birding's dramatic growth as one of the world's most popular pastimes, The Lodge at Chaa Creek is offering Belize birding vacations that cater to professional ornithologists and novice bird watchers alike.
And now, with the launch of the new Belize Rainforest Retreat at Chaa Creek, birding groups have an affordable accommodation and activity venue that's surrounded by literally hundreds of bird species.
The Retreat's opening comes just as a recent Forbes magazine article identified Belize as one of the world's top five birding destinations for 2020.
Brion Young, manager of Chaa Creek's Belize Natural History Centre and an avid birder himself, said, "We're so happy to see a source as respected as Forbes confirm something those of us in the birding community have known for years."
The February 2020 article, "Bird Nerds Rejoice: The Top Five Birding Destinations For 2020" by Katherine Parker-Magyar, ranks Belize alongside the Amazon Rainforest, the Galapagos, Florida Everglades, Brazil, and New Zealand as the world's best birding locations.
Describing Belize, the article notes that, "For a country roughly the size of New Jersey, Belize boasts a spectacularly diverse range of ecosystems, from the coastal mangroves and wetlands to the interior pine forests that surround the Mayan Mountains."
Mr Young said that diverse range of ecosystems is just one of the reasons why Belize has become such a popular birding destination.
"In Belize, over a quarter of the country's land and territorial waters are under some form of protection. This gives our resident and visiting birds unspoiled and undisturbed places to feed, rest, nest and raise their chicks.
"For example, right here within Chaa Creek's 400-acre private nature reserve, over 300 species have been catalogued during the Birds Without Borders/Aves Sin Fronteras project," Mr Young said.
Sponsored by the Foundation for Wildlife Conservation and the Zoological Society of Milwaukee, Birds Without Borders also tracked the migratory habits of birds while providing specialised training for Chaa Creek's naturalist guides, Mr Young explained.
"So now, in addition to having such a rich variety of birds, we also have guides who know how to identify them, their calls, habits and nesting areas.
"This gives experienced birders a very valuable resource, and also makes Chaa Creek a great place for novices to discover the joys of birding. All you really need is a pair of binoculars, a notebook and perhaps a field guide, and you're on your way," he said.
Birding is now one of the fastest growing pastimes in North America, with the US Fish and Wildlife Service reporting that one in every five Americans identify as birders. In the UK, birding has overtaken fishing as the nation's number one hobby.
Mr Young said he's not surprised by birding's growing popularity.
"It's good healthy fun that gets you outdoors, and can be incredibly satisfying and rewarding regardless of your age or level of fitness."
And now the new Chaa Creek Belize Rainforest Retreat makes birding easy, productive and affordable for birding groups and associations.
Consisting of ten riverside "Eco-Pods" – simple yet comfortable cabins with porches offering uninterrupted views of the surrounding jungle, with a central thatched roof palapa for dining and get-togethers, the Belize Rainforest Retreat combines seclusion with the convenience of being close to The Lodge at Chaa Creek's amenities.
A host family provides home-cooked breakfast and meals, maintains the environmentally-friendly conveniences, grounds, and large campfire ring while offering local knowledge and "some of Belize's best barbecues," Mr Young said.
While the Belize Rainforest Retreat is off-the-grid and self-contained with solar power, using candlelight lamps for illumination in the Eco-Pods, guests are welcome to use the nearby infinity pool, restaurant, lounge, conference centre, spa and other amenities at the Lodge.
They can also enjoy complimentary tours of the onsite Belize Natural History Museum and Butterfly Breeding Farm, visit the Maya Medicinal Plant Trail and traditional Maya Organic Farm, and walk or horseback along the miles of trails running throughout the 400-acre private nature reserve.
"The Belize Rainforest Retreat combines the best of two worlds – affordable, comfortable rustic simplicity, yet with all the features of Belize's premier eco-resort just a pleasant fifteen-minute stroll away.
"And while there's plenty of great birding right here, our Chaa Creek Inland Expeditions tour company has a fleet of vehicles with licenced naturalist guide drivers ready to take you to wetlands, the Mountain Pine Ridge, Caribbean coast, and other hot birding spots throughout Belize," Mr Young said.
In addition to all-inclusive vacation packages and the Belize Rainforest Retreat, Chaa Creek also offers complimentary vacation planning to help individuals and groups make the most of their birding vacations and budgets.
Mr Young encouraged people to visit the Chaa Creek and Belize Rainforest Retreat websites, and then contact their travel agents or Chaa Creek directly to speak with an experienced vacation planner and make bookings.
"Birding has become a passion for many of us here at Chaa Creek, and that's something we love to share with visitors. And with our infrastructure, experience, specialised birding guides and nationwide network of colleagues, I'm confident that we offer the absolute best birding vacations in Belize.
"And, as Forbes magazine points out, amidst some of the best birding in the world," Mr Young said.
The Lodge at Chaa Creek is a multi-award winning eco resort set within a 400-acre private nature reserve along the banks of the Macal River in Belize. It was recognised by National Geographic with first place honours at the 2017 World Legacy Awards held in Berlin.