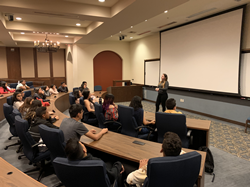 "Bottom line - whatever you do, don't submit a 'why USC' essay using what's written for 'why Michigan.' The colleges deserve to hear why they're right for you, and students benefit from the exercise of researching a college to really know specific reasons why they belong." - Jennifer Winward
NEW YORK (PRWEB) January 31, 2020
Robert Farrington, Senior Contributor for Forbes Magazine, interviewed Dr. Jennifer Winward to feature in the article 5 Mistakes That Could Get Your College Application Rejected. Winward, founder and CEO of Winward Academy - an award-winning college prep company - explored common reasons applications are rejected and identified three significant errors she's noticed in the past 20 years working with students.
Exaggerating. Students have been known to exaggerate their extracurricular activities to the point that the hours they report can look fishy to the naked eye. According to Winward, "students need to be careful to accurately represent their weekly time commitments to leadership activities, athletics, work, and extracurriculars. I've seen students who exaggerate their hourly commitment to the point that when the hours are totaled, they're representing weekly commitments that are simply not possible."
Leaving Questions Unanswered. The last thing a student wants is an easy reason for admissions to say "no." Students must ensure that there is not anything in an application that leaves someone in admissions wondering what happened here? It's not explained. Is there a low grade in a class, or a time period without activities? A student must explain that grade, and a student must elaborate on why a period of time went by without participating in activities. "In general, anything unusual on an application should always be explained," says Winward.
Submitting Generic Essays. While correct grammar and spelling are essential, other errors are equally damaging. Many colleges ask for an essay about why a student wants to attend. Students have a tendency to want to say "pretty campus, school spirit, and good location" as their reasons. Because that description applies broadly, colleges won't be impressed. Those "why" essays need to be specific, thoughtful, and compelling. It's where students have the opportunity to really sell why they belong at a college because of specific programs, areas of study, research, professors, courses, and other factors unique to a university.
"Bottom line - whatever you do, don't submit a 'why USC' essay using what's written for 'why Michigan.' The colleges deserve to hear why they're right for you, and students benefit from the exercise of researching a college to really know specific reasons why they belong," shared Winward.
About Winward Academy
Test success, college success, and life success – they all begin at Winward Academy, a research-based, student-centered learning platform for the ACT, SAT, math class, and college applications. Winward Academy applies a scientific approach to customize learning for each student, enabling growth for students of all levels and learning styles. Winward Academy is a team of passionate adolescent learning researchers committed to thoughtfully developing curriculum that improves learning, retention, and test performance – building confidence for life. Winward Academy curriculum is used by students at home, by teachers in the classroom, and by charities in after-school and summer programs. For more information on Winward Academy, see winwardacademy.com or follow the company on Facebook, Instagram, or Twitter.