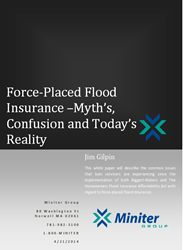 Norwell, MA (PRWEB) October 24, 2014
Miniter Group today published "Force-Placed Flood Insurance –Myth's, Confusion and Today's Reality" a white paper which describes the common issues that loan servicers are experiencing since the implementation of both Biggert-Waters and The Homeowners Flood Insurance Affordability Act with regard to force-placed flood insurance. The changes described in the white paper will only be changes that affect bankers and loan servicers. The white paper is focused on providing a compliance based explanation of your force-placed flood insurance program for your auditors and regulators.
According to Jim Gilpin, EVP of Business Development at Miniter Group,
"Force-placed flood insurance has been a frustrating topic for loan servicer's this year, the FDIC and other regulator's have sent mixed messages and haven't provided substantial guidance. While we wait for FEMA to act, this white paper is designed to give servicer's a baseline to defend their force-place flood insurance programs."
To receive a copy of the white paper click here.
 
Miniter Group is a leading provider of collateral risk transfer solutions to the lending industry, providing services to over 550 lenders in 45 states. Miniter's in-house software development team created a unique Borrower-Centric Insurance Tracking Solution in 2006. Miniter's products include Lender Placed Hazard, Lender Placed Flood, REO Hazard, REO Liability, Blanket Mortgage Hazard, Mortgage Impairment Insurance, Outsource Tracking, Vendor Single Interest Insurance, Collateral Protection Insurance and GAP Insurance. 
 
Miniter Group can be reached at 1-800-MINITER or http://www.miniter.com